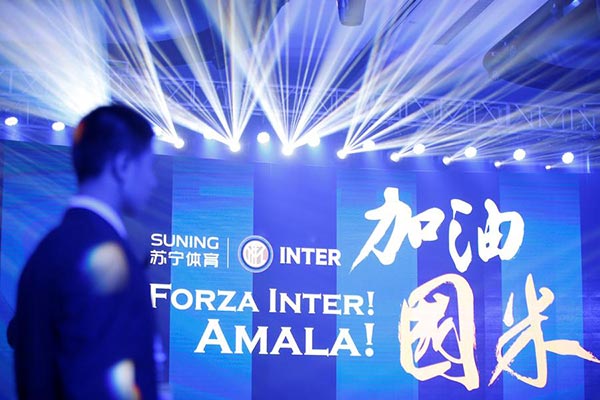 A security guard keeps watch before a news conference with Chinese retailer Suning and Italy's Inter Milan in Nanjing, Jiangsu Province, June 6, 2016.[Photo/Agencies]
Chinese retail giant Suning Commerce Group announced on Monday afternoon that it has signed a 270-milllion-euro ($307 million) deal to acquire a 70 percent stake in Italian soccer club Inter Milan, in the company's latest foray into renowned European clubs.
Suning Sports Group, a subsidiary of the Jiangsu-based electronics retailer, sealed the deal by subscribing new shares while purchasing old ones, the company said at a news conference in Nanjing.
Erick Thohir's International Sports Capital, the former majority shareholder of Inter Milan, will retain a 30 percent stake.
"I'm very excited to have Suning in the team," Thohir said, adding that top football clubs such as Inter Milan will need a strong partner for capital support and business operations to better compete in the international arena and serve world football fans.
Zhang Jindong, chairman of Suning Holdings Group, said: "I know that taking over the torch of such a historic and brilliant club is not just a glory for us, but a mission and a responsibility."
With Suning's sustained investment, Inter Milan will continue to be the cradle and center of top-notch football players, he added.
Suning, one of the largest Chinese electronics retailers with annual revenues topping $20 billion, already splashed millions of dollars on its Chinese Super League team, which boasts stars such as Brazil's Alex Teixeira and former Chelsea midfielder Ramires.
The retailing behemoth, which owns Chinese online content platform PPTV, has also expanded its presence in the sport by forging ties with Spanish champions FC Barcelona and England's Liverpool FC.
This cooperation is very important because Suning has "set up a bridge between China and one of the most renowned clubs in Italy," Xinhua News Agency reported, citing Chinese Football Association (CFA) head Cai Zhenhua, a day earlier.
"The acquisition offers a rare window of opportunity for China's football development .... to brush up their management and skills," said Liu Tong, a CFA official.
Media reports suggest Inter's cross-town rival AC Milan is also in talks with potential investors from China - home to the world's largest population of football fans, and several Chinese companies, including Kweichow Moutai, will jointly purchase a 70 percent stake in AC Milan.
Kweichow Moutai, the country's leading liquor producer, has denied the reports.
Xinhua contributed to this story.