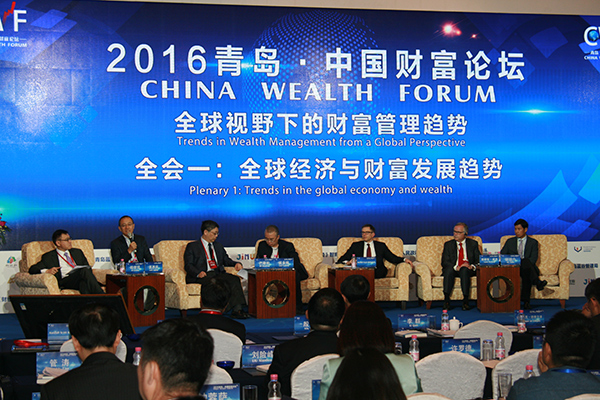 Officials and experts from home and abroad discuss wealth management during the 2016 China Wealth Forum, which was held in Qingdao, East China's Shandong province, from Friday to Sunday [Photo by Hu Qing/chinadaily.com.cn]
The global economy's booming wealth management sector was one of the main topics during the 2016 China Wealth Forum, held from Friday to Sunday in Qingdao, East China's Shandong province.
With the theme "Trends in Wealth Management from a Global Perspective", the event attracted high-profile government officials, financial experts and scholars from home and abroad.
Guo Shuqing, Governor of Shandong province, said the development of the wealth management sector, by transforming private savings into effective investment, was a way to optimize industry construction, improve market supply quality and enhance people's earnings.
"Wealth management in China caters to all the people and all-level governments should be responsible for maintaining financial stability," he said.
China's wealth management sector has been in full swing in recent years, but it still lags behind that in developed countries.
Randall Scott Kroszner, a former member of President George W. Bush's Council of Economic Advisors, told media it would be very valuable to build a robust wealth management sector that had many different types of players in it. He says it will be able to harness the savings of the people in the region, as well as throughout the country, to then be used for product investment.
The 2016 China Wealth Forum was hosted by the Qingdao Municipal Government. Qingdao is building China's only national-level wealth management financial pilot zone, which was approved by the State Council in February 2014.
In the past two years, financial reforms have spurred rapid profit growth in the financial industry. Now, the coastal city is on track to become a wealth management financial hub.
"We are committed to build the forum into a prospective and authoritative platform for global exchanges in wealth management, while delivering Chinese voices in wealth management sector," Qingdao Party Chief Li Qun said.
Li says, this year, Qingdao will try harder to integrate advanced experiences home and abroad into Qingdao practice. He says this will foster more institutions to specialize in financial and wealth management innovation, as well as wealth management product research and development.
Statistics show profits generated from the financial sector grew by 16.3 percent, annually, during the 12th Five-Year Plan – much faster than the GDP growth rate.
By the end of 2015, 221 financial institutions were operating in Qingdao – 1.5 times the number in 2010. The number of financial enterprises, such as foundation companies, reached 500 – 2.5 times that in 2010.
Alexis Calla, global head of Investment Strategy, Advisory and Discretionary of at the Standard Charted Bank, said it was necessary to absorb products from overseas, not just in China, to teach people about choice and broader opportunities.
He says financial tools are also needed to balance the opportunities and the risk.