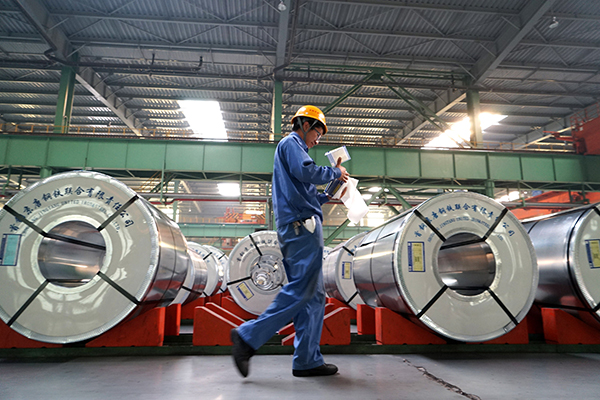 A worker checks steel product files at a cold rolling mill of Tangsteel Group Ltd in Tangshan, Hebei province. [Photo/China Daily]
Transformation of the troubled metal industry turns tricky as both output and prices rise in April
Wang Zhengqiang, 52, retired eight years early during a layoff at a steel mill in Tangshan, North China's Hebei province.
He said he had seen the steel industry slipping from a prosperous phase to decay.
"In the past, people saw steel mills as money makers and they envied us being steel workers," Wang was quoted as saying by the Legal Weekly.
"But now, it's no longer what it was before, because severe overcapacity has burdened the steel industry for years," he said.
Wang was one of the 22,000 employees Tangsteel Group Ltd had laid off or transferred, a result of a capacity reduction work, the Legal Weekly reported.
Tangsteel is a subsidiary of the China's largest iron and steel business group, HeSteel Group Co Ltd.
The city of Tangshan where the company is based was required to cut crude steel capacity by at least 40 million tons from 2013 to 2017, accounting for two-thirds of Hebei's total production-cut target.
As the largest State-owned steelmaker in Tangshan, Tang-steel couldn't escape the burden.
One of the biggest challenges it faced was the redeployment of an estimated 22,000 employees who used to be engaged in its core steel-making activities.
A major steel mill of the company has cut employees from 7,000 to 3,000, the Legal Weekly reported.
The company has been seeking to make an industrial transition for several years, by expanding non-steel businesses in sectors such as manufacturing, logistics, real estate, education and services.
According to its website, Tangsteel has developed 25 affiliated companies in these sectors.
At present, it has 33,000 employees, nearly half of them in non-steel businesses.
On the other hand, Tangsteel is also undertaking a product-based transition in the steel business.
With an annual capacity of 18 million metric tons, high-quality steel products now account for 60 percent of Tang-steel's total production.
They can be widely used in automobile, machinery, electricity, transportation and household appliances.
In another development, Tangshan Songting Iron and Steel Co, another steel mill in Tangshan, re-opened in April after lying idle for five months. The company, which temporarily shut down in November over mounting debt, is looking to restart production soon, media outlets reported an unnamed industrial insider as saying.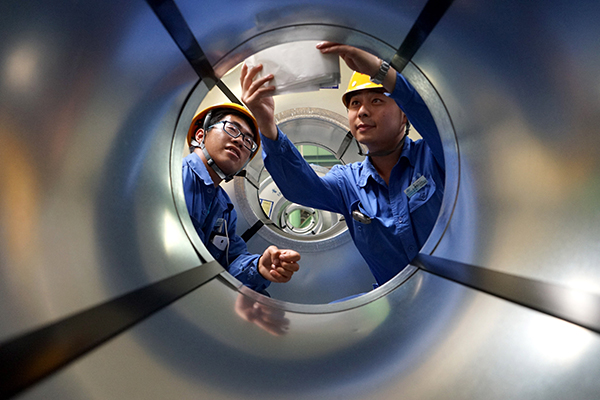 Two workers stick production identifications on steel products at a cold rolling mill of Tangsteel Group Ltd in Tangshan, Hebei province. [Photo/China Daily]
Similarly, mills in other steel-producing regions, including Tianjin and Shanxi, are resuming operations, despite a move by the government to downsize the steel sector.
China's steel sector had experienced years of plunging prices and factory shutdowns due to the sluggish economy. However, in March, demand picked up, thanks to infrastructure and property projects.
Steel product prices have increased more than 60 percent in the year to date. Hot-rolled steel coils, for example, increased to around 3,200 yuan ($500) per ton from less than 2,000 yuan at the beginning of the year.
Encouraged by the uptrend in prices, many steel mills are resuming production.
National daily crude steel output reached 2.28 million tons in March, up 12.9 percent from the first two months-nearing the record 2.31 million tons seen in June 2014.
The Purchasing Managers' Index that tracks the iron and steel sector rose to 57.3 in April, the first time in two years that it climbed above 50, the level that separates expansion from contraction.
China's steel industry has been plagued by overcapacity for years. It has been felt even more in the past two years as demand for steel dropped.
Steel producers experienced their worst year in 2015, with combined losses in the main business soaring 24-fold from 2014 to over 100 billion yuan. Despite the recovering market, some are warning that it is too early to celebrate just yet. There are concerns over whether the construction-driven price spike will impede the government plans for the steel sector.
The return of steel companies adds pressure to the streamlining of the sector, thus, policies need to be better implemented, said Ma Li, an analyst with Lange Steel, a steel information website.
Analysts expect the reopened factories will push crude steel output to a new high in April-the data is yet to be released. But, the government has vowed to control production. Hebei province has asked officials to crack down on new mill projects and close those that failed to secure approval for reopening.
On the other hand, some are downplaying the impact of surging steel prices on the situation, describing the rebound as "no more than a blip."
The rapid price spikes are not sustainable as they are largely driven by a seasonal pickup in fixed-asset investment and exacerbated by speculation in the steel futures market, according to Fitch Ratings.
The ratings agency expects steel prices will be under significant pressure in the near term as domestic demand for steel has generally remained flat.
Qu Xiuli, vice-president of the China Iron and Steel Industry Association, said that although steel production is likely to hit a new high in April, the rise in supply will help rein in the rampant market.
Some industry insiders argue that consolidation of the sector will be a long process and unlikely to be disturbed by short-term changes.
"It is like a 'protracted war' we cannot win in single combat," said Zou Jixin, vice-president of Wuhan Iron and Steel (Group) Co. To cut excess capacity, debt-ridden and inefficient steel producers need to make big changes, Zou said.
Liu Weiming, financial analyst with CITIC Bank, went further and said the price surge may even help steel mills; "The price rebound will improve the solvency of steel companies and give them more room for restructuring."
China's financial regulators in late April ordered banks to stop issuing loans to steel and coal enterprises that operate at a loss. The Ministry of Commerce said in April that it would work with more nations to address steel overcapacity. The government shut down outdated facilities with total production capacity of over 90 million tons in the past five years, and it plans to slash another 100 to 150 million tons by 2020.
Xinhua contributed to this story.