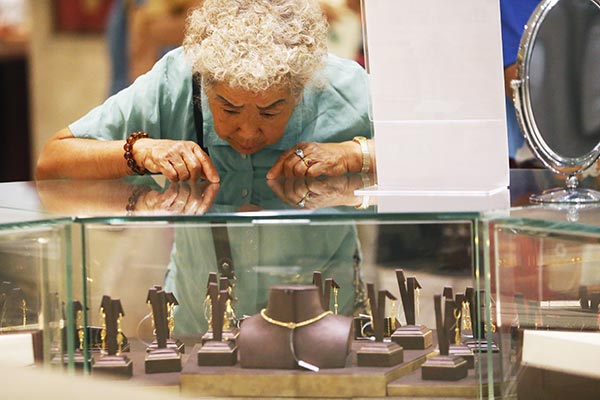 A customer chooses gold jewelry at a store in Beijing. CAO BOYUAN / FOR CHINA DAILY

New measure could help China gain more pricing power in the global bullion market
The Shanghai Gold Exchange, the world's largest physical gold bourse, on Tuesday launched a yuan-denominated gold benchmark.
The Shanghai Gold Benchmark Price could help China gain a pricing power that matches its position as the world's top producer, importer and consumer of the precious metal.
The benchmark price will be derived from a 1-kilogram contract for gold ingots with a fineness of no lower than 999.9, traded by 18 participants on the exchange. The price will be quoted in the yuan per gram and settled via the SGE platform, according to the official website.
The price will be set twice a day based on a few minutes of trading in each session.
The London benchmark, Loco London Gold, quoted in US dollars per ounce of gold with a minimum fineness of 995, is set via a twice-daily auction on an electronic platform with 12 participants.
The bullion industry has long been dominated by London where the global spot benchmark price is currently set.
"The relationship between Shanghai Gold and Loco London Gold is non-competitive while the two complement and facilitate each other and share mutual benefits," said a whitepaper issued by the SGE.
Market players said that the new benchmark will influence both domestic and international financial markets.
"The Shanghai Gold Benchmark Price will act as a price foundation for domestic gold enterprises in both national and international business," said a research note from the China Gold Association.
"It will provide advantages to domestic gold enterprises from the aspects of raw materials, gold semi-manufactured products, various kind of gold product transactions, the import and export activities, and the negotiation and contract signing of gold investment projects," it added.
Aram Shishmanian, CEO of the World Gold Council, said the launch of the new benchmark represents another milestone both in the impressive development of the exchange and in the internationalization of China's gold industry.
"It is a steppingstone to a new multi-axis trading market consisting of London, New York and Shanghai and signals the continuing shift in demand from West to East," said Shishmanian.
"The World Gold Council continues to support the development of China's gold market, and as the market expands to reflect the growing interest in gold by Chinese consumers, so too will China's influence increase on the global gold market."
Experts said there is a strong rationale for an international effort to shift the price setting to China as it will be responsible for a large share of future growth in world gold consumption.
Commercial banks said they can take advantage in wide participation, transparent mechanism and delivery versus payment settlement of the benchmark.