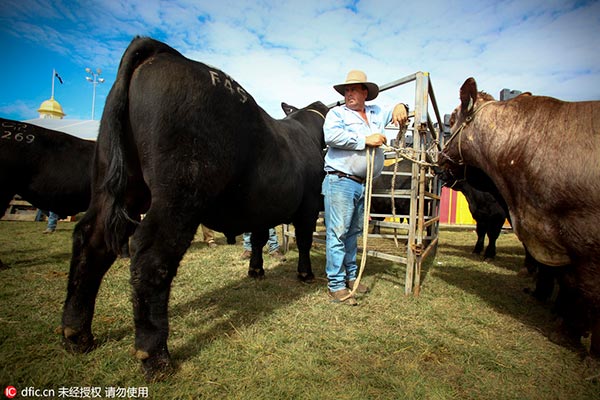 Cattleman Stephen Hatward stands guard with his cattle at the Royal National Association Grounds, Brisbane, Australia, August 7, 2011.[Photo/IC]
A Chinese-led group has agreed to buy Australia's most iconic cattle company in a deal valued at more than A$370 million ($288 million) after partnering with local investors.
The venture, headed by a company controlled by Shanghai Pengxin Group, will purchase 80 percent of S. Kidman & Co, according to a statement on Tuesday to the Shenzhen Stock Exchange. Australian Rural Capital Ltd will take a 20 percent stake.
The deal requires approval from Chinese regulators, and Australia's Foreign Investment Review Board, which last year blocked the sale of Kidman to an overseas buyer on grounds of national security.
Founded in 1899 by so-called Cattle King Sidney Kidman, the company's ranches span 101,000 square kilometers, or about 1.3 percent of Australia's total land area, and carry about 185,000 cattle. The family-owned enterprise produces grass-fed beef for export to Japan, the United States and Southeast Asia.
The offer values the company at A$370.7 million, the target and bidding consortium said in a separate statement on Tuesday.
Shenzhen-listed Hunan Dakang Pasture Farming Co, which is controlled by Shanghai Pengxin, has a 51 percent of the Chinese side of the venture, with privately owned Shanghai CRED Real Estate Stock Co holding 49 percent.
In November, the FIRB blocked the sale of Kidman, saying the proximity of its Anna Creek ranch to a weapon-testing range could compromise national security. Kidman subsequently carved that ranch from the sale to ease such concerns.
The agreement between the consortium and Kidman complies "with all requests that have been made by the FIRB," Chairman John Crosby said in the statement. "The significant investment proposed by the consortium will see an increase in production and the expansion of international markets for Kidman beef, the majority of which is already exported."
The consortium will initially invest A$46.3 million over the first 12 months, including restocking the properties, and expects to create 50 new jobs in the first year of ownership.
Treasurer Scott Morrison, who oversees the FIRB process, has 90 days from around April 26 to consider the bid, according to the statement. Morrison's office said in an e-mail it wouldn't make a "hasty decision on this very significant matter".