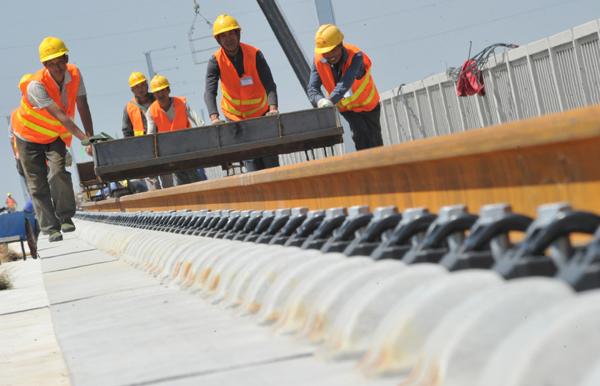 China Railway Erju Co Ltd's workers construct a railway project in Yuncheng, Shanxi province. [Photo/Xinhua]
HEFEI - Vice-Premier Ma Kai said Thursday that China will continue a "relatively large" scale of railway investment in the next five years, a critical period for railway expansion.
He made the remarks at a conference on railway construction, stressing the significance of railway development in China from 2016 to 2020.
"We should speed up the expansion of China's high-speed railway network, build more inter-city and city-suburb links, and work to complete a freight railway network," said the vice premier.
"We must accomplish the target of investing more than 800 billion yuan ($123 billion) in railway construction in 2016," said Ma.
China has some 121,000 kilometers of rail lines in operation. More than 19,000 kilometers of them are high-speed railways, accounting for over 60 percent of the total in the world.