China has shown encouraging progress in adjusting the economic structure, said Fu Chengyu, former chairman of Sinopec Group and a member of the Chinese People's Political Consultative Conference (CPPCC) National Committee, at a briefing on Friday.
The new economic engine continues to grow, as high-tech and equipment manufacturing sectors have outpaced the general industry, while residents' per capita income grew 7.4 percent, faster than last year's GDP growth, said Fu.
Despite challenges and difficulties, the economy is fundamentally strong, he said, adding that the central government is prepared for the downward pressure, as can be seen from the Work Report.
Chinese companies, having grown up since the early stage of the reform and opening-up in the late 1970s, are now facing new challenges. However, as the government and companies are stronger than they were, confidence holds high amid difficulties, said the veteran entrepreneur.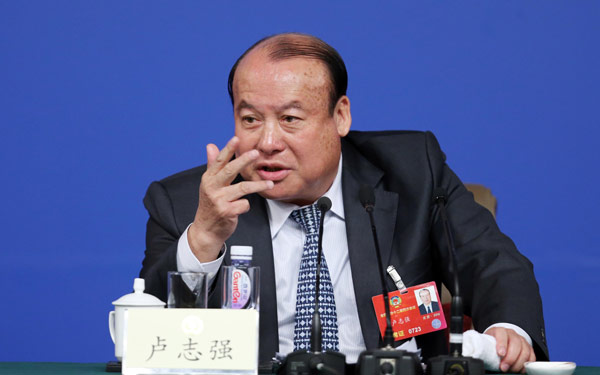 Lu Zhiqiang, member of the CPPCC National Committee, speaks to the press on March 11, 2016, during a media conference held in Beijing. [Wang Zhuangfei/chinadaily.com.cn]
Lu Zhiqiang, member of the CPPCC National Committee and chairman a Oceanwide Holdings Group
"The Chinese economy will not have a hard landing," said Lu Zhiqiang, member of the CPPCC National Committee and chairman a Oceanwide Holdings Group. Lu spoke to the press on Friday during a media conference.
According to Lu, the Chinese market reserves many changes, many difficulties, but also holds many opportunities.
"You'll read more chances in a changing market with absolute confidence," said Lu.
A hard landing normally refers to radical changes and big ups and downs in the process of economic development. However, by taking the year-on-year growth rate of GDP in recent three years as an example, 7.7 percent, 7.3 percent and 6.9 percent, which have shown a gradually descent trend that will not be able to read as "hard landing".
According to Lu, "Economics normally uses the consumer price index (CPI) as a barometer for deflation. Specifically speaking, if the CPI figure remains below 1 percent in six months, it will be considered a deflation. But in China, the CPI figure held steady between one and two percent in 2015. This year, in January, it was at about 1.8 percent, and the latest data unveiled on Thursday said that the figure is at about 2.3 percent. By taking the growth rate of M2, a broad measure of money supply that covers cash in circulation and all deposits, which remains above 12 percent and seven percent GDP growth rate as a whole index, we cannot sum up a conclusion that China is facing deflation."
However, objectively speaking, the pressure of deflation in China is increasing, he admitted.
"The development potentials for China's economy are far beyond our imagination and big changes remain to be seen in the consumption market. The advantages provide huge opportunities and development for the upgrade and transformation of both State owned and private enterprises. The content of the draft 13th Five-Year Plan (2016-20) submitted to the national legislature last week provides big opportunities for China's economic, social and industrial development. From an entrepreneur's perspective, I feel confident about the future of China's economy and the economy won't suffer hard landing and will not sink into deflation," said Lu.
Going global
"It's an inevitable choice and trend for Chinese enterprises to get support from the government to go global and expand into international market due to the growth of China's economy and their companies' scales," said Lu.
According to Lu, the "going global" process will meet many challenges.
"As for hedging the risks, firstly, a company should be able to realize the worldwide economic development trend and dynamic exchange rates. Secondly, give an insight into local communities, laws, local customs and practices and consumer attitudes. Thirdly, build brand awareness and establish good service models is more important for Chinese enterprises than to simply launch one or two international projects without branding and services development. Fourthly, we should learn from outstanding western enterprises in the 'going global' perspective. For example, most of the hotels that we built since the reform and opening-up policy are managed by foreign companies. Objectively speaking, they did better than Chinese firms and put them under a lot of pressure."