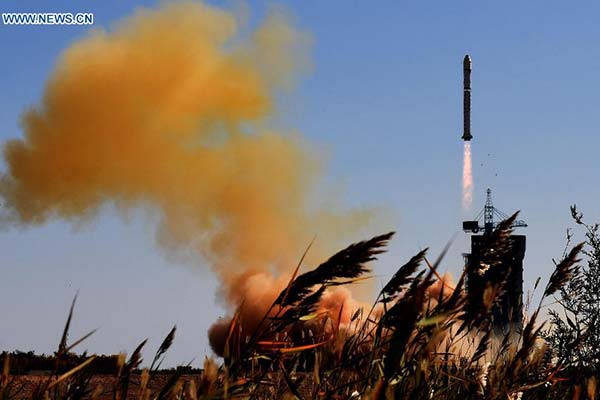 A Long March-2D carrier rocket carrying the "Jilin-1" satellites blasts off from the launch pad at the Jiuquan Satellite Launch Center in northwest China's Gansu province, Oct 7, 2015. [Photo/Xinhua]
When Jilin-1 satellites, China's first home-grown remote-sensing group of satellites for commercial services, were launched along with a Long March-2D rocket on Oct 7 last year, what Wang Jiaqi felt was more than just excitement and self-satisfaction.
"It was a big step in developing remote-sensing space technology in China, and I felt very proud and exhilarated because the whole country would start looking at Jilin with new eyes," he said during the ongoing two sessions.
"More importantly, it could jumpstart a high-tech industry that will serve as a new engine of Jilin province's growth amid industrial upgrading and economic restructuring," he added.
Wang, a 76-year-old academician and a deputy to the National People's Congress, is also the director of the Academic Council of the Changchun Institute of Optics, Fine Mechanics and Physics, Chinese Academy of Sciences — the parent organization of the Chang Guang Satellite Technology Co Ltd that developed the satellites.
Jilin-1, launched from the Jiuquan Satellite Launch Center in Northwest China's Gansu province, includes four satellites, one for testing new space technology, one for high-definition images, and another two for video.
The satellites will focus on providing photographs to commercial clients, while helping with harvest assessment, geological disaster prevention and resource surveys, according to Wang.
He told China Daily that the satellites have been functioning well, sending data stream back to the ground. "Further upgrade will be made accordingly," he said.
"Satellites are no longer far removed from people's lives. In the near future, more information provided by the satellites will be shared, and more satellite functions will be explored," Xuan Ming, board chairman of the company, was quoted as saying in an earlier report by Xinhua News Agency.
Meanwhile, the company has been developing satellites that can test the level of global carbon dioxide in the atmosphere, which are expected to launch in August this year.
It will also be the first self-developed satellites of such kind in the country, said Wang. "If they succeed, it will be a great help for China to monitor the CO2 distribution around the globe, and to make decisions to combat the global warming and climate changes (together with world communities)."
Jilin province, which used to be the country's industrial powerhouse, together with Liaoning and Heilongjiang provinces, is aiming high by developing its satellite industry as a new engine to drive its slowing economy.
It plans to launch 60 satellites by 2020 and 137 by 2030.
The province has been mulling to build an aerospace industrial zone, featuring aerospace culture and tourism, science education, pilot training, airplane maintenance and commercial utilization of satellites, etc., said An Guiwu, director of Jilin's development and reform commission.
The industrial zone, once put into use, could bring in about 10 billion yuan ($1.54 billion) by 2020.
"We will continue to encourage high-tech innovation and turn the outcomes into productivity in Jilin, and to build these emerging industries into new driving forces to upgrade Jilin's economy," said Bayinchaolu, Party chief of Jilin and also an NPC deputy.