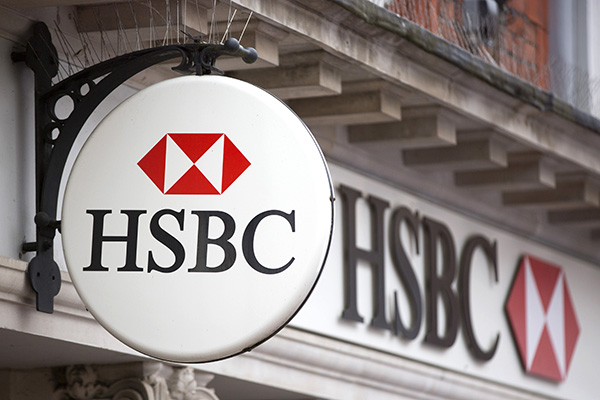 A sign sits above a HSBC bank. [Photo/CFP]
China has the fiscal and monetary tools to resist any hard landing and the ability to cushion the impact in the short-term, said Douglas Flint, Group Chairman of HSBC.
Flint was speaking at HSBC's Chinese New Year lunch on February 3, which is attended by Liu Xiaoming, Chinese ambassador to the UK.
Flint's words came at a time when China's exports and manufacturing sectors are slowing, and weakening of the Chinese currency has caused some concern internationally.
But Flint said he expects China to achieve sustainable growth in the long term, through measures such as reforming state-owned enterprises, further lowering trade and investment barriers, and spending more on the right infrastructure. He also expects China's 13th five year plan will signal the country's intention to stick to its intended course of reform. The latest plan, to be published in full in March, will lay out China's development plans between 2016-20.
Flint said that other countries also have an important role to play by engaging with China, creating the conditions for trade and investment exchange, and actively participating in markets, and the UK has been amongst China's most enthusiastic and energetic of friends.
"In recent years, channels of investment between the UK and China have grown rapidly, with many Chinese companies achieving success and investing in the UK and Chinese consumers now providing a vital market to British business."
Last year's landmark visit to the UK by President Xi Jinping saw commercial deals signed totaling almost 40 billion pounds.
"As a result, Chinese citizens will be flying in aeroplanes powered by engines made in Derby, they will be treated in hospitals built by British companies and their homes will be heated by gas provided by a British firm. Meanwhile in Britain, millions of homes will be powered by clean energy and areas from London to Leeds will enjoy regeneration, both because of Chinese investment."
As the first western nation to sign up to the Asian Infrastructure Investment Bank, the UK has signaled its commitment to helping provide infrastructure investment into the region, whilst also putting British businesses in prime position to benefit.
To contact the reporter: cecily@mail.chinadailyuk.com