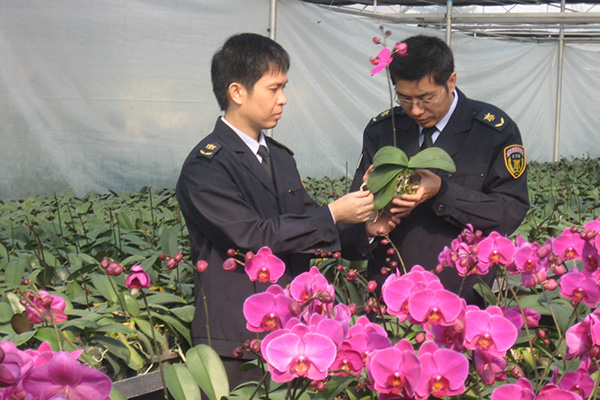 Quarantine officers check flowers. [Photo provided to chinadaily.com.cn]
Guangdong stands as the origin of about 30 million overseas Chinese, many of whom live in Southeast Asia.
Citrus SP grown in Shunde takes up 80 percent of the market in Southeast Asia, according to Shunde Entry-Exit Inspection and Quarantine Bureau, with Citrus SP exports to Singapore up 15 percent for the season this year.
Vietnam buyers favor Phalaenopsis Hybrids and Phododendron SP while those in Malaysia prefer small potted plants.
The past two months saw 4.95 million pieces of festive plants exported from Shunde, mostly to South East Asia.
Flowers grown in Shunde currently bloom in 80 foreign countries and regions, with seedlings and flowers inspected by Shunde Entry-Exit Inspection and Quarantine Bureau amounting to 79.9 million pieces valued at $28.78 million last year, up 36 percent and 30 percent year-on-year respectively.
Oman and Azerbaijan started to import flowers from the district in the year. The first batch of Cymbidium Hybrids SPP was shipped to Reunion Island in January.