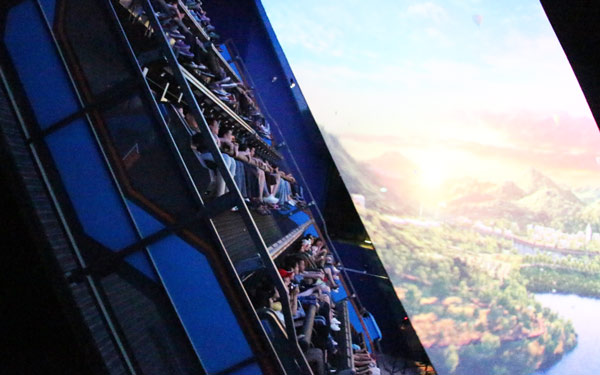 The flying theater installed by Shenzhen OCT Vision Inc in Vinpearl, a them-park in Nha Trang, Vietnam. [Photo/China Daily]
Shenzhen OCT Vision Inc is determined to focus on creativity that can help it to prepare for future
In 2001, just a few days after the "911" attacks, Li Jian, then an executive with a theme park, visited the United States and met Peter Schnabel, then a founder of Premier Rides Inc. He was impressed by the roller coaster Premier Rides sold to Disney California Adventure.
Back then, he could not have imagined that one day they would collaborate to jointly tap the international market.
Now, Li is the general manager of Shenzhen OCT Vision Inc in China. And Schnabel is the chief executive officer of CAVU Designwerks Inc in the US.
Their vision is to sell jointly developed theme park products to leading tourist destinations like the EuropaPark, John F.Kennedy Space Center and the Niagara Falls.
"He leads creativity and marketing teams, and I'm responsible for specific product development, manufacturing, engineering and delivery," Li said.
In December 2009, Li and his partners set up Shenzhen Vision, a theme park products company. Two years later, they sold off a 60 percent stake to Overseas Chinese Town Group, a State-owned tourism giant.
Li said OCT was attracted by Shenzhen Vision's portfolio of products, like the 360-degree-view full-universe theater, the vision drop ride, the flying theater. Shenzhen Vision also owned about 100 patents and inventions, among which 12 were filed under the Patent Cooperation Treaty.
Shenzhen Vision hit the fast track after joining the OCT Group, becoming Shenzhen OCT Vision Inc in the process. Its products are now sold to several branches of Happy Valley, the group's flagship theme park chain, including Shenzhen, Chengdu, Tianjin and Wuhan.
The company's business growth coincided with China's theme park boom. In 2013 alone, Chinese developers spent nearly $24 billion on construction of theme parks, up from $9 billion in 2011, according to US engineering services company AECOM.
In 2014, AECOM estimated there are about 60 more parks in the pipeline, and predicted by 2020 China's parkgoers will outnumber the current 220 million in the United States.
OCT Group's parks in China already attract nearly 30 million visitors a year, behind only those of Walt Disney Attractions, Merlin Entertainment Group, and Universal Parks and Resorts.
That's impressive progress for a company that, in 2009, as OCT Vision, had just 30 employees and an annual revenue of 50 million yuan.
Last year, the company hired nearly 700 people and clocked a revenue of 240 million yuan. Its client base has expanded to include companies beyond OCT Group. Now, it not only sells equipment to other amusement park operators but provides holistic planning and building solutions for such projects in Yulin and Liuzhou in Guangxi Zhuang autonomous region.
Besides, it has exported its flying theaters to theme parks in Turkey and Vietnam, a market hitherto dominated by US and European companies.
Wang Xiaorui, vice-president of Shenzhen OCT East, said OCT Group bought into Li's initial company because it wanted to shift away from its traditional model of external procurement. Having domestic theme-park providers rather than overseas suppliers would be competitive price-wise, and after-sales service more accessible.
For example, an imported flying theater typically costs 100 million yuan. A similar one made in China costs about 30 million yuan.
The group, however, limits its domestic purchases to small- and medium-sized facilities. When it comes to giant facilities with high safety requirement, like roller coasters and space shuttles, it still trusts foreign brands, despite higher costs. An imported roller coaster typically costs 1 billion yuan, an amount that could buy several domestic machines.
There is no reliable data yet on the size of China's facility market, Wang said. A new Happy Valley project in Chongqing involved procurement of equipment worth up to 500 million yuan. Major parks invariably involve imports.
"Situations vary from park to park. For a central SOE like us, we can't afford the risk of contracting major facilities to domestic suppliers," she said.
But homegrown companies like Vision are filling a gap, according to Wang. For one, park operators prefer their small-scale machines whose relatively lower price covers installment and maintenance, something that foreign companies do not offer. For another, facilities such as drop ride are increasingly integrating velocity with visual stunts. Visual thrills matter more than physical jolts-and OCT Vision has carved a niche for itself in this segment with its creativity.
And creativity is king, said Li. So, Shenzhen OCT Vision is actively seeking to buy out popular intellectual properties abroad, and adapting them for its new facilities.
For example, he is in talks to buy intellectual property of Assassin's Creed, a popular video game developed by UBisoft Entertainment S.A.
But Li dreams of developing products by drawing from Chinese folklore, fairy tales and history. He is planning to build Chinese culture-based tourism towns overseas to appeal to local Chinese.