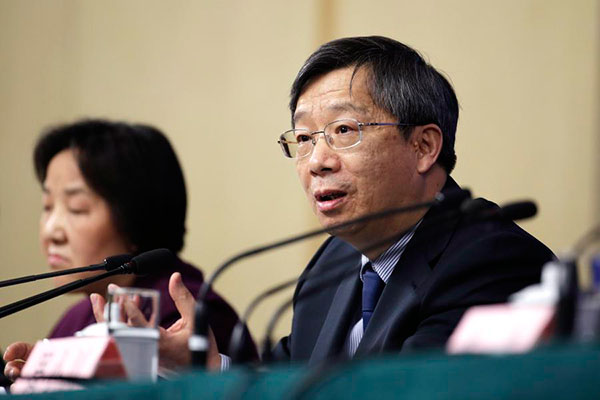 China's central bank vice governor Yi Gang, head of China's State Administration of Foreign Exchange (SAFE), answers a question at a news conference during the annual session of the National People's Congress (NPC), the country's parliament, in Beijing, March 12, 2015.[Photo/Agencies]
China is fully capable of keeping its currency at a stable and reasonable level after joining the IMF's Special Drawing Rights basket, the country's central bank told a news briefing on Tuesday.
"There's no ground for continued devaluation of renminbi as China's economy keeps growing at a speed of medium-to-high level with a huge trade surplus and ample foreign exchange reserve," said Yi Gang, vice-governor of the People's Bank of China.
"In addition, both foreign and outbound direct investments are increasing," he said.
"Inclusion of yuan in the basket doesn't immediately change our current exchange rate system," he added. "The system will steadily shift to a clean floating one...It takes time."
Yi's words came in response to worries that a more freely-traded yuan would add the volatility to China's trade picture and raise the risk of capital flight.
International Monetary Fund on Monday added the yuan to its elite basket of reserve currencies, effective from October next year, an economic milestone for further liberalization in the world's second-largest economy.
China will continue to deepen and accelerate economic reforms and financial opening up, and contribute to promoting world economic growth, safeguarding financial stability and improve global economic governance, said the country's central bank in an earlier report.