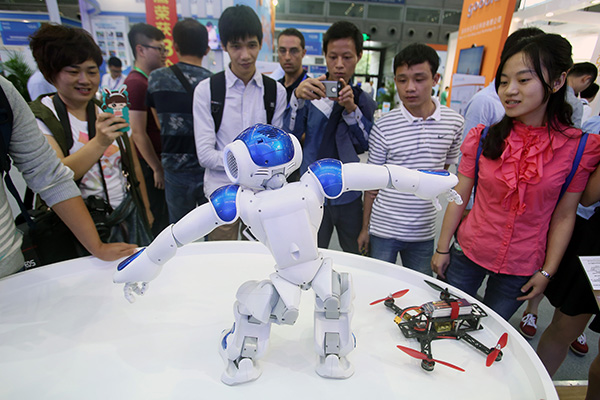 A dancing robot attracts visitors at the China Hi-Tech Fair. [Photo/China Daily]
Zheng Yuanting, an artist-turned-entrepreneur, has been busy since the annual China Hi-Tech Fair opened on Monday.
"We displayed our newly developed hygiene products with nano technologies at the fair for the first time, and received a warm response from buyers," said Zheng, the founder of Aispo.
Some clients from the Middle East are eager to visit his factory and sign distribution contracts as soon as possible, he said.
Cooperating with the University of Central Lancashire in the United Kingdom, which provides nano technologies, Aispo's hygiene products, including laundry liquid, leather cleanser and dishwashing detergents are neutral and environmentally friendly.
"The high-tech fair provides a big opportunity for us to quickly expand in domestic and overseas markets," said Zheng.
Royole, a high-tech startup, also built up its reputation at the fair.
At this year's fair, Royole is presenting its latest Royole-X product, a foldable mobile device equipped with a groundbreaking 3,300 ppi screen - the world's highest pixel density, about 10 times denser than current leading smartphone displays.
"The fair is a feast of technology trends and concepts," said Fan Junchao, director of the company's marketing department, adding that it would show audiences the rise of high-technology development.
With the theme of "Creative Entrepreneurship, Cross-border Integration", the CHTF 2015 covers an unprecedented 150,00 square meters at the Shenzhen Convention and Exhibition Center.
This year's CHTF has attracted more high-tech startups such as Aispo and Royole, as it has set up independent areas for inventors, young high-tech enterprises and university student entrepreneurship, to provide a platform for innovation, ideas and products of small and medium-sized innovative companies, individual makers and students.
The young makers will display their inventions and new products at 2 pm every day from Monday through Saturday.
To echo the country's Belt and Road Initiative, the fair has an area in its international pavilion to facilitate exchanges between visitors and exhibitors from countries and regions along the routes.
Johnny Tai Teck Hing, a council member of the Malaysia-China Friendship Association, said companies in his country could learn from China's booming online shopping to explore new channels for their traditional foods.