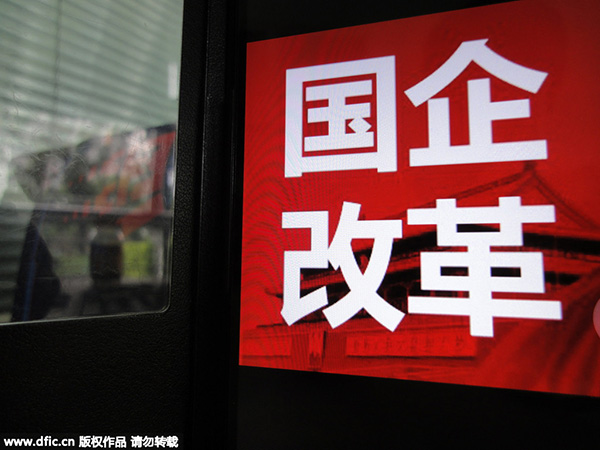 The government will improve the competence of SOEs and turn them into fully independent market entities. [Photo/IC]
Improved efficiency and innovation result from closing bad businesses, economist says
China is studying policies to help "zombie" companies withdraw from business in order to improve the efficiency of State-owned and private enterprises.
Zombie companies are those that generate money but are unable to pay off their debt and cannot survive without outside support.
Economists have suggested such a mechanism be formulated in 2016.
Allowing "zombie" companies to go out of business is a long-term issue and the government wants to take the opportunity to establish an exit mechanism for unprofitable enterprises, said Feng Fei, vice-minister of industry and information technology.
The disposal of assets will mainly be carried out through market approaches, such as commercial banks accelerating the disposal of nonperforming loans and bad debts. Financial asset management companies can deal with bonded debts for bankrupt or restructured enterprises.
Both the central and local governments need to establish mechanisms to help laid-off workers resettle and train for new employment, said Feng, who previously headed the industry department at the State Council Development Research Center.
Industrial overcapacity has led to a continuous decline in product prices and it's common to see a large number of unprofitable companies in the same industry. China's general industrial output grew 6.2 percent year-on-year in the first nine months, about 0.7 percentage points lower than economic growth during the same period.
The rate of growth in equipment manufacturing was 5.1 percent in the first nine months of the year, joining steel, electrolytic aluminum and cement as a drag on industrial growth.
Huang Yiping, an economics professor at Peking University, and a member of the central bank advisory committee, said if "zombie" enterprises can't be closed, it will become a huge constraint on growth prospects, particularly for the efficiency of resource allocation and innovation.
From an economic perspective, it will be more efficient to use the country's resources to ensure the livelihood of unemployed workers than have unprofitable factories continue to operate, said Huang.
"I'm not saying all the 'zombie' SOEs should be shut down today, but a principle we should adhere to is, if a company cannot make money, we should use the market approach to deal with it, both for SOEs and private companies," said Huang.
A thorny issue might be which companies should be weeded out and which should stay. Local governments are reluctant to shut down SOEs in their own administrative area because many are big taxpayers.
Chen Jia contributed to this story.
Contact the writer at lanlan@chinadaily.com.cn