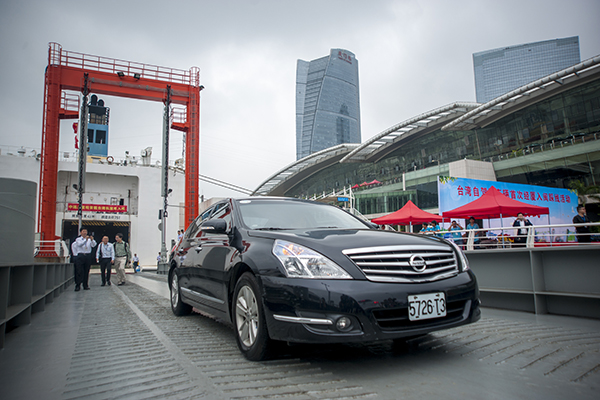 A car with a Taiwan registration plate drives off a vessel at a Xiamen port terminal in Fujian province. The scheduled meeting between leaders of the two sides boosted shares of Fujian-based companies in tourism, transport and trade on Nov 4, 2015. [Photo/China Daily]
Stock prices of related companies surge after reports of Xi-Ma meet
Stock prices of related companies that are set to benefit from closer cross-Straits ties surged on Wednesday after Xi Jinping and Ma Ying-jeou, the top leaders from both sides, agreed to meet on Saturday in Singapore.
Xi and Ma are set to exchange views on promoting the peaceful development of cross-Taiwan Straits relations, according to Zhang Zhijun, head of the Taiwan Work Office of the Communist Party of China Central Committee and Taiwan Affairs Office of the State Council.
The Taiwan Affairs Office said in a statement that "the mainland's attitude on a meeting between leaders from both sides of the Taiwan Straits is positive and consistent".
It will be the first such meeting between the two sides since 1949.
Analysts said the proposed meeting between Xi and Ma has raised investor interest in several companies in the West Straits Economic Zone, which covers more than 20 cities in Fujian, Zhejiang and Guangdong provinces.
Shenyin & Wanguo Securities Co Ltd's research data showed that average share prices of A-share listed companies which are based within the West Straits Economic Zone gained by 6.44 percent.
Share prices of Xiamen-based port operator Xiamen Port Holdings Ltd gained 9.97 percent to 12.8 yuan ($2.02). Fuzhou-based realty developer Sanmu Group Co Ltd gained 10.03 percent to 9.76 yuan. Ningde-based power supplier Fujian Mindong Electric Power Co Ltd gained 10.05 percent to 10.51 yuan. Zhangzhou-based infrastructure services provider Fujian Minnan (Zhangzhou) Economy Development Co Ltd gained 10.05 percent to 6.13 yuan.
Companies from tourism and hospitality, transportation and logistics at the west side of the Straits will benefit from closer economic ties between the two sides after the meeting, according to a research note from Shanghai-based Guotai Junan Securities Co Ltd. Other sectors to benefit include financial services, trade and retail, energy and environment protection, manufacturing, healthcare and infrastructure.
The rally may continue as investors expect to see more detailed results after Saturday's meeting, and another wave of gains may be observed on Monday, said a research report by Aijian Securities Co Ltd.
The benchmark Shanghai Composite Index rose by 4.31 percent to close at 3,459.64 points.
Taiwan stocks rose to a three-month high after the news of Xi-Ma meeting was released. The Taiwan Stock Exchange Capitalization Weighted Stock Index rose 1.7 percent to post its best close since July. Weighted stocks including Taiwan Semiconductor Manufacturing Co and MediaTek Inc gained the most in eight weeks.
Taiwan Semiconductor Manufacturing Co Ltd saw share prices rising 3.6 percent, and second-largest company Hon Hai Precision Industry Co gained 1 percent.
South Korea's KOSPI rose 0.21 percent to 2,052.77 points while Japan's Nikkei 225 climbed 1.3 percent to 18,926.91 points.