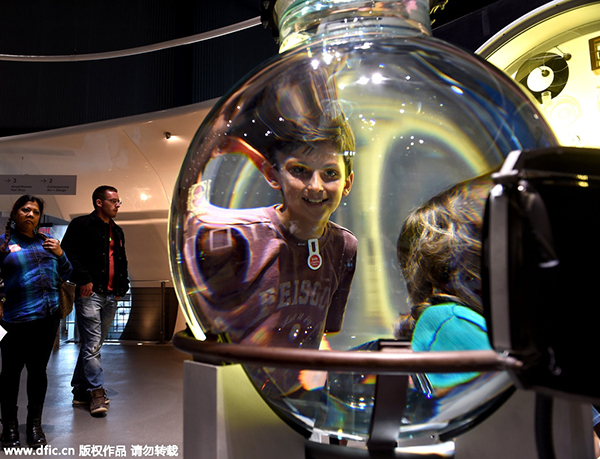 Looking through a giant water lens during a tour of the Innovation Center at the Corning Museum of Glass, Aug 15, 2015. [Photo/IC]
Glass and ceramics maker Corning Inc said on Tuesday that it was open to new investments and acquisitions for growth, amid an economic slowdown in the world's second-largest market.
"Our next five-year plan will be centered on new investments and acquisitions, operations, innovation and talent training," said Li Fang, president and general manager of Corning China.
"We have been looking into possible projects, evaluating them to make sure that they are in line with our overall strategy."
The United States-based Corning's business in China includes optical communications technologies and display technologies used to make liquid crystal display panels. Sales hit $2 billion in 2014.
Li said the company will continue to see robust sales due to the growing demand for smartphones, tablets and the push for clean energies in China, which represents the largest market for Corning.
In April, it acquired a manufacturing facility in Hainan province for its fiber optics business from South Korean giant Samsung Electronics Co Ltd.
It also kicked off construction on a new LCD glass substrate finishing facility in Chongqing in June.
"The investment will help us better cater to the growing market for LCD substrates in China, since we have a localized supply chain here," Li said.
Lu Jinyong, a professor at the University of International Business and Economics in Beijing, said the company's innovation strength and a booming global LCD market have provided the impetus for strong growth in sales.
"Even though many industries suffer heavy losses caused by excessive production, companies with added-value products and unique technologies can still generate profits," he said.
The US company gained fame when Apple Inc's former chief executive officer Steve Jobs asked Corning to set up a new plant to supply cover glass, known as Gorilla Glass, a specialized toughened glass designed to be thin, light and damage-resistant, which was introduced in iPhones in 2007.
Corning now supplies most of the smartphone producers, but also faces challenges from makers of sapphire screens, who claim that sapphire is a better cover glass and more scratch resistant.
To maintain its dominance in the market, Corning will introduce a new product called phire, which will have the combined strength of its existing Gorilla Glass with added scratch-resistance features.