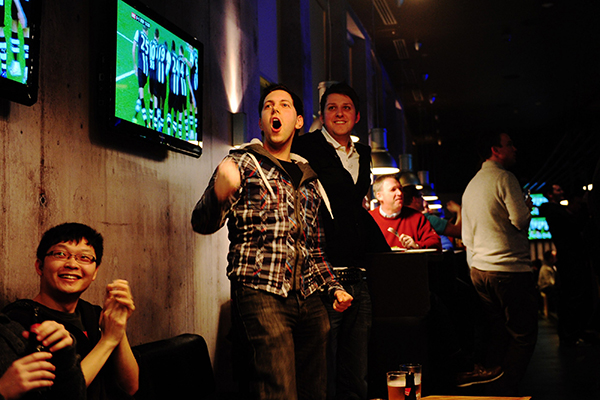 Fans cheer their team in a pub in Newcastle, the United Kingdom. LeTV Holdings Co Ltd has won the rights to broadcast the English Premier League for the coming three seasons in Hong Kong. [Photo provided to China Daily]
Three-year deal for airing soccer games from 2016 season may be worth $400 million, say experts
LeTV Sports, the sports arm of China's biggest online video company LeTV Holdings Co Ltd, has snapped up the Hong Kong rights to the English Premier League soccer games for the next three years starting 2016, as part of its efforts to bring in new technology and securing a number of exclusive television properties.
Though LeTV did not disclose the exact terms of the agreement at a news conference in Hong Kong on Tuesday, industry sources said it could be as high as $400 million-plus for the three years, more than double what the current rights holder PCCW's Now TV paid for a similar three-year deal.
Beijing-based LeTV is aggressively expanding into the Hong Kong pay TV market, which has been dominated until recently by Now TV and i-Cable.
Cheng Yizhong, the newly appointed CEO of LeTV Sports in Hong Kong, said that LeTV will also webcast some Premier League matches in ultra high-definition quality during the 2016-17 season.
LeTV, which started out as an online video platform, has since evolved into a smart TV maker and diversified into segments such as smart bicycles, vehicles and smart phones.
Having evolved from a page on the Leshi movie and TV site letv.com in 2012 into a separate entity streaming live sports events, including National Basketball Association and National Collegiate Athletic Association basketball games from the United States, LeTV Sports is now shifting toward an all-round sports media business.
Acquiring the broadcast and media rights for exclusive sports events seems to be the way ahead for LeTV in what is otherwise a highly competitive market. However, it will face stiff competition from similar services owned by Alibaba Group Holding Ltd, Tencent Holdings Ltd and Dalian Wanda Group Co.
In January this year, Tencent beat LeTV Sports with $500 million for the rights to broadcast NBA games in the Chinese mainland for the next five seasons, despite LeTV Sports offering $600 million.
As one of China's fastest-growing and most acquisitive video-streaming startups, LeTV Sports' merry-go-round to beef up its presence as an all-round events rights holder is mind-blowing.
As of July this year, it is reported to have handled broadcast and media rights for as many as 200 events and nearly 10,000 matches for live broadcast, ranging from golf's US Open, cycling's Tour de France, and three years of tennis' Wimbledon Championships to the Boston and New York marathons, and Shenzhen International Marathon.