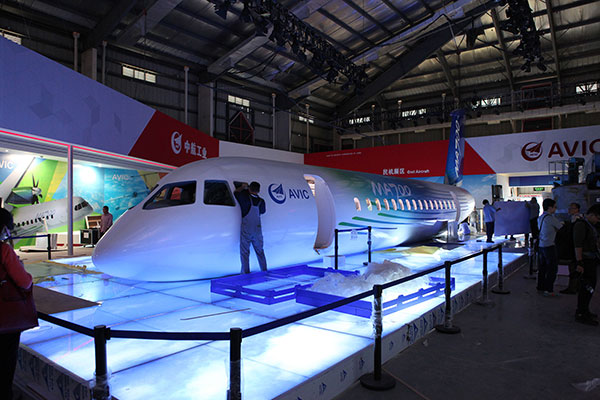 A man helps to display a model of a MA700 at the 2014 Airshow China in Zhuhai, Guangdong province.[Photo/Xinhua]
Defense equipment manufacturers have been quick to convert military technology to civilian use.
Last year, the civil aviation industry contributed 98.64 billion yuan ($15.49 billion) to the China Aerospace Science and Technology Corporation.
Total income was 168 billion yuan, according to Jia Ke, spokesman for the State-owned enterprise, which is involved in satellite production, manned spacecraft and strategic missile developement.
"The Beidou satellite navigation guidance and positioning system from China Aerospace Science and Technology is one excellent example," Jia said. "This is now used in the civil sectors of transport, communications, water conservation and the forestry industries."
Civil contracts now account for more than 75 percent of new business for China's large State-owned military groups, the Ministry of Industry and Information Technology re-ported in April.
The ministry also revealed that technologies pioneered for lunar probes, high-resolution earth observation systems and aircraft would be converted to civilian use.
"Supported by the central government, the national defense science and technology industry achieved remarkable results for military and civilian integration," Xu Dazhe, director of the State Administration of Science, Technology and Industry for National Defense, said at the 2015 China Military and Civilian Integration Expo in July.
Aviation is one of the main areas that have crossed over from the military sector to the civil industry. Aviation Industry Corporation of China, or AVIC, the largest aircraft manufacturer in China, unveiled plans for a passenger aircraft, helicopters, commercial drones and aviation engines at the expo.
The company's new 70-seater turboprop MA700 passenger aircraft, which will be rolled out in 2017, already has 185 orders from six domestic and five foreign airlines.
"The MA700 project is going smoothly according to schedule," Geng Ruguang, deputy general manager of AVIC, said. "The number of orders has showed that clients have confidence in domestic-made civil aircraft."
AVIC is also pursuing a civil helicopter program, with the AC312 breaking into overseas markets. It has cooperated with Airbus Helicopter Inc, part of the Airbus Group SE, the European multinational aerospace and defense corporation, to develop the AC352 helicopter.
The aircraft has been penciled in for a delivery date in 2016.
wangwen@chinadaily.com.cn