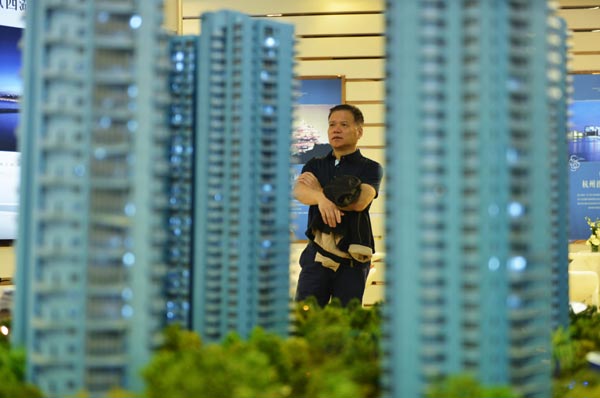 A man examines property models at a housing sales center in Hangzhou, capital of Zhejiang province. [Photo/China Daily]
The country's largest listed housing developers are still grappling with shrinking margins despite a sale triumph in the first half, according to an examination of their latest half-year earnings.
Of the 60 homebuilders examined by Centaline Property Agency, average net profit margin-the sector's most closely watched indicator-slipped to 8.4 percent, a far cry from the 12 percent of just two years ago. Margins of over half of the developers declined below 10 percent.
Evergrande Group, which released its latest half-time report on Monday, revealed the industry's highest net profit margin so far, 13.1 percent, a figure not included in the Centaline study.
But China Vanke Co, the country's largest residential property builder in terms of sale value, registered what is its lowest margin on record, 9.6 percent.
Of the major firms included in the findings, Greenland Group reported the lowest margin level, 4.6 percent.
In profit terms, Hong Kong-listed China Overseas Land & Investment Ltd topped the list with HK$16.3 billion ($2.1 billion), followed by Evergrande's 13.29 billion yuan ($2.08 billion). Rhine Home was the worst performer, losing 25.9 million yuan in the period.
Property analysts blamed the high revenue-low profitability levels mainly on surging land prices, which add to developers' costs.
Tan Huajie, Vanke's board secretary, told investors in August that it viewed surging land costs as its major hurdle to raising profit margins.
"As a developer, if you don't build a land bank you'll have nothing to sell, but if you do, you face the risk of financial losses," Tan said.
During the second quarter, the average land transaction prices in 14 cities jumped 42 percent from a year earlier, Tan said.
Analysts said that if home prices do not increase, developers buying expensive land will inevitably make a loss. Many have to sell homes at greater discounts, as their inventories pile up.