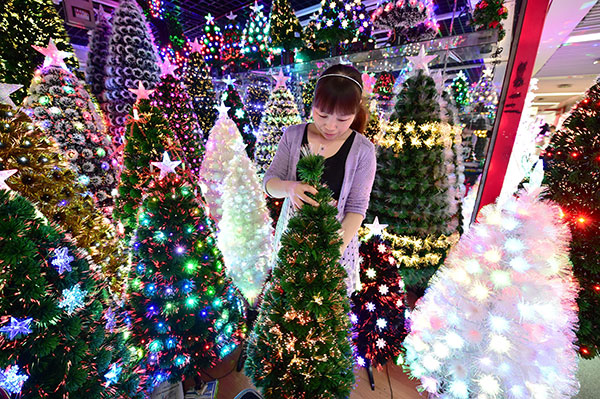 A sales person sorts and arranges decorative Christmas trees for exports in Yiwu, Zhejiang province.[Lyu Bin / China Daily]
Decision to devalue China's currency will help companies boost sales and drive growth in overseas markets
Zhu Zhixiang sells artificial Christmas trees in Yiwu, Zhejiang province.
Normally, she wraps up her overseas sales by July. But this year, August has been an incredibly busy month.
"We would usually finish receiving orders from foreign clients by the end of July, but due to devaluation of the yuan, I'm hoping to persuade clients I turned down before because of costs to put in orders," she said.
The Christmas tree manufacturing sector has become labor-intensive and profit margins are around 5 percent. But now that the yuan has fallen by about 2 percent against the United States dollar, Zhu has been quick to exploit the business opportunities.
"The external economic markets have not been stable in recent years," she said. "Some clients came up with prices that were between 1 percent and 2 percent lower than we could accept. But since the yuan has depreciated, there are opportunities to increase sales."
So far, Zhu has added two extra orders, worth around 100,000 yuan ($15,625), and has more pending.
"It's been a tough year," she said. "Sales dropped 25 percent in the first half, compared with the same period in 2014. But at least we are getting some good news now."
Her upbeat mood follows the decision by the People's Bank of China, or central bank, to depreciate the yuan against the US dollar on Aug 11 to combat falling exports and slowing growth. Last month, China's exports dropped 8.9 percent from the same period a year earlier, according to the General Administration of Customs.
With numbers like these, it is hardly surprising that Wu Yijia, general manager of Yiwu Qijia Garment Co, fails to share Zhu's optimism
"Some people think the devaluation of the yuan is good news for labor-intensive exporters like us, but our clients respond quickly to the currency change," she said.
Wu has already been asked by foreign clients to lower her prices.