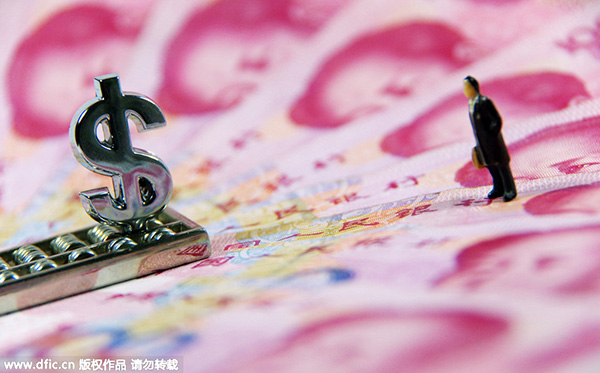 Premier LiKeqiang said on Aug 25 that the yuan will 'remain basically stable' and in equilibrium. [Photo / IC]
Premier LiKeqiang said on Tuesday that the yuan will "remain basically stable" and in equilibrium.
Li said China recently improved its system of setting the daily yuan reference rate against the US dollar-part of the effort to better reflect global market developments. He added that the adjustment was part of China's ongoing reform efforts. There is no longer any basis for continued depreciation of the renminbi, he said.
The yuan has depreciated about 3 percent against the dollar, prompting speculation of monetary easing by the Chinese government amid sluggish exports and weaker economic expansion.
Li made the remarks during a meeting with Kazakh First Deputy Prime Minister Bakytzhan Sagintayev in Beijing. Sagintayev attended an annual meeting of the two countries' cooperation committee on Sunday.
Li admitted that the Chinese economy has, to some extent, been affected by turbulence in global markets, but said its fundamentals remain stable and economic development is still within a reasonable range.
"We still have room to further implement macroeconomic policies, and China has a huge domestic market," he said. "China has the confidence to achieve major economic development goals this year under proper reform measures to stabilize and restructure the economy."
Experts said Li's remarks were meant to reassure Kazakhstan, an oil-rich country in Central Asia that has seen its exports slump amid falling commodity prices and drops in the value of the Russian and Chinese currencies.
Russia and China are Kazakhstan's two main trading partners.
Kazakh President Nursultan Nazarbayev said in comments released by his office that the country is experiencing a shortage of funds.
"In connection with this, expenditure on new projects will be strictly limited by opportunities to increase the income base," Nazarbayev said.
Zhao Huirong, a research fellow of Central Asian studies at the Chinese Academy of Social Sciences, said the economic difficulties in Kazakhstan will affect China's investments in the country, which focus on infrastructure, transportation and other sectors requiring large amounts of capital.
"But since Kazakhstan is strategically important in Beijing's Silk Road Initiative and is the economic and transportation hub of the area, I don't think China's investment will be hindered in the long run, since most of our projects are funded by government-backed policy banks," Zhao said.
Zhao warned that although the ongoing economic difficulties challenging Kazakhstan will not impede China's investment in the long run, Chinese investors must take cautious steps to avoid high-risk projects.
At the annual meeting of the cooperation committee, China and Kazakhstan agreed to work together to upgrade roads and railways linking western China with the Central Asian country en route to western Europe-part of China's ambition to build a China-Europe transportation corridor.
The decision will encourage the running of a regular commodities train between Chinese and European cities.
China is Kazakhstan's largest trading partner, and the two nations have pledged to promote bilateral trade to a record high of $40 billion by the end of this year.