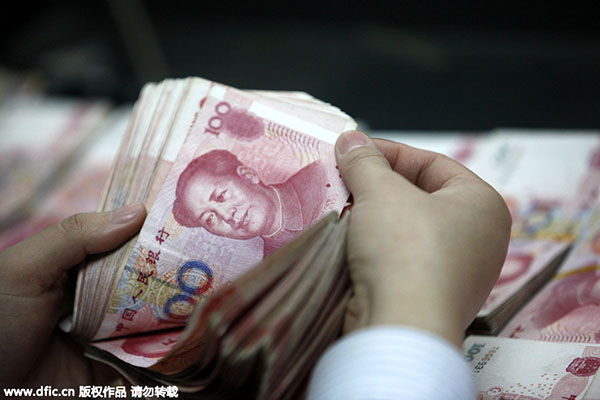 Chinese clerk counts RMB (renminbi) yuan banknotes at a bank in Huaibei city, East China's Anhui province, January 22, 2015.[Photo/IC]
Central bank officials said on Thursday they were confident of keeping the yuan stable at a rational value, promising "effective management" to deal with any extreme volatility.
Yi Gang, deputy governor of the People's Bank of China and director of the State Administration of Foreign Exchange, said that "the exchange rate fluctuations have been within expectation."
"After a short run-in period, the market status will return to normal," he said.
"The central bank will take effective management if unexpected volatility happens, to stabilize the market".
As the spot rate is allowed to trade within a range of 2 percent of the daily fixing, the potential risk is under control, said Yi.
The top regulator's commitment boosted market confidence and the yuan's tumble eased.
Offshore yuan traded in Hong Kong rebounded 1.1 percent, while the onshore spot rate slipped slightly by 0.19 percent.
The daily fixing of the yuan's exchange rate against the US dollar, set by the People's Bank of China, fell by 1.1 percent on Thursday to a four-year low of 6.4010 yuan per dollar.
That followed the sharpest two-day drop since 1994, making an accumulated 3.5 percent fall from 6.1162 on Monday.
The shock depreciation in the currency happened as the central bank introduced a new market-oriented reference rate regime.
The previous trading day's closing price, movements of the world's major currencies, and demand and supply of the yuan will now be taken into account in setting the trading midpoint.
According to Yi, a more flexible exchange rate will help to achieve a balance between capital inflows and outflows.
"We have our own timetable to push forward the country's capital market reform, and that cannot be easily changed by exchange rate fluctuations. We are confident about steadily achieving our goals."
Ding Zhijie, head of the School of Finance at the University of International Business and Economics in Beijing, said that a 3 to 5 percent devaluation in the short term would be tolerated by policymakers.
"The exchange rate is expected to become more reasonable by September, fluctuating about 1 percent day-on-day," said Ding.
"The market will decide whether it will depreciate or appreciate by then."
Ding called the reform "a one-off move" to eliminate price distortions following the central bank's intervention, and said it was unlikely policymakers would return to the former management system in future.
"The central bank has already withdrawn from regular interventions but other tools may be used to stabilize the market, such as verbal support and selling or buying currencies."