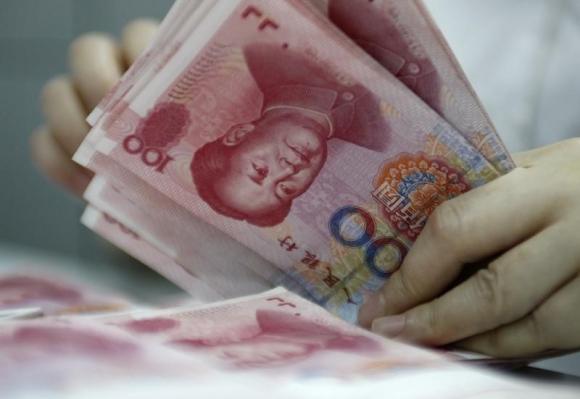 An employee counts yuan banknotes at a bank in Huaibei, Anhui province June 22, 2010.[Photo/Agencies]
China's central bank cut its benchmark deposit and lending rates by 25 basis points from Wednesday in an attempt to further ease the debt burden of enterprises amid weak economic growth.
The one-year deposit rate fell to 1.75 percent, and the lending rate dropped to a record low 4.6 percent. The last interest rate cut, also by 25 basis points, was on June 28.
The People's Bank of China simultaneously removed the 1.5 times floating ceiling based on the benchmark rate for deposits longer than one year, signaling a move towards completely liberalized interest rates.
Deposits with a maturity of less than one year maintain the former floating ceiling set by the PBOC since May.
The central bank also cut the amount of money banks must hold, or the reserve requirement ratio, by 50 basis points for all financial institutions from September 6, to ensure sufficient liquidity in the banking sector.
An extra 50 basis points RRR cut was made for rural financial institutions, including non-county-level rural commercial banks and rural credit cooperatives, to support agricultural activities and small businesses.
In addition, the RRR reduction for financial and auto financing companies reached 3.5 percentage points, with the government willing to stimulate relative consumptions, according to a statement on the PBOC's website.
Weaker-than-expected economic indicators since July showed that the country's economic growth momentum has resumed its downward trend after a short-term rebound in May and June.
Last month, industrial output growth slowed to a three-month low of 6 percent. Exports contracted more than 8 percent year-on-year. Property construction and investment decelerated further. Infrastructure investment meanwhile stumbled to 16 percent after June's short-lived revival.
The Caixin Purchasing Managers' Index dropped to 47.1 in August from 48.2 in July, the lowest level since March 2009.
Rob Subbaraman, an economist at Nomura Securities, said: "It would appear that China's structural headwinds, including overcapacity and over-leverage, are once again wearing on growth".
The scope to ease policy is far from exhausted for China, he said. "We do not rule out a big-bang stimulus package of measures – monetary, fiscal and stock market stabilization – to generate a maximum signaling effect".