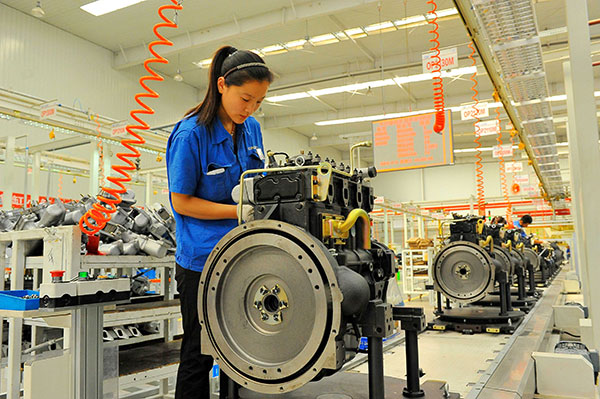 Workers assemble engines at a factory in Weifang, Shandong province. The pre-reading of the manufacturing Purchasing Managers Index, released by Markit Group Ltd and Caixin Media Co Ltd, slipped to 47.1 from the final reading of 47.8 in July. [Wang Jilin / China Daily]
Flagging industrial production is adding more downside risks to the Chinese economy and deterring international investors from making fresh commitments.
Economists have indicated that industrial output growth may slow further in August and even fall below the three-month low of 6 percent year-on-year seen in July.
The recent explosions at the Tianjin port and the large-scale factory closures around Beijing ahead of the parade to celebrate the victory of World War II have disrupted industrial activities in the summer.
The country's manufacturing output is likely to contract to a six-month low in August, as the pre-reading of the Purchasing Managers Index slipped to 47.1 from the final reading of 47.8 in July, index providers Markit Group Ltd and Caixin Media Co Ltd jointly reported on Friday. The output, new orders, export orders and the employment component have all shown remarkable declines down to the lowest level since 2009.
He Fan, chief economist at Caixin Insight Group, said that the lower-than-expected flash reading indicates that the economy is still in the process of bottoming out.
"There is still pressure on maintaining growth rates, and to realize the goal set for this year the government needs to fine-tune fiscal and monetary policies to ensure macroeconomic stability and speed up structural reforms," said He.
China's stock prices dived 4.27 percent at Friday's close, and further slumped by nearly 9 percent in Monday's trading, the sharpest drop since 1996.
Friday's sluggish manufacturing data have intensified global concerns about China's economic growth, as the data indicate that industrial overcapacity and weak demand still remain major challenges.
Worries are mounting that the deepening slowdown in the world's second-largest economy may have spread to the global market. Major stock indexes in the United States slumped by more than 3 percent on Friday, the largest single-day drop in four years.
Asian stocks have also extended declines, heading into a bear market since the end of last week, following a wave of competitive currency devaluation in the region since China's currency depreciation on Aug 11.
Economists warned that the recent fluctuations in the Asian foreign exchange market and China's weak growth momentum may speed up capital outflows and drag down foreign direct investment in the near future, adding pressures to the real economy.
Zhu Haibin, chief economist in China at JPMorgan Chase & Co, said that the temporary shutdown of highly polluting factories in northern China prior to the parade marking the 70th anniversary of victory in World War II will further slow the August manufacturing activity.
The government is willing to control air pollution for the big event to be held in Beijing on Sept 3. Similar measures have been taken during the Asia-Pacific Economic Cooperation meetings in November 2014.
More challenges will be put on the policymakers' table after August, requiring further aggressive measures to stabilize growth, said experts, due to the softer exports, slumping infrastructure investment and continued contraction in property starts since July.
Wang Tao, chief economist in China at Swiss financial services firm UBS AG, wrote in a research note that policy efforts to stabilize growth will continue, focusing on "mobilizing resources to fund and implement infrastructure and public service investment projects, delivered mostly through policy and commercial banks, alongside other monetary and credit policy measures".
She said the central bank is likely to cut benchmark rates at least once this fall, and to use "various liquidity instruments" and reserve requirement ratio cuts to stabilize money market rates and bond yields.
"The current stimulus is more about doing enough to stabilize growth at about 6.5 to 7 percent, and not about reversing the slower growth trend," said Wang.