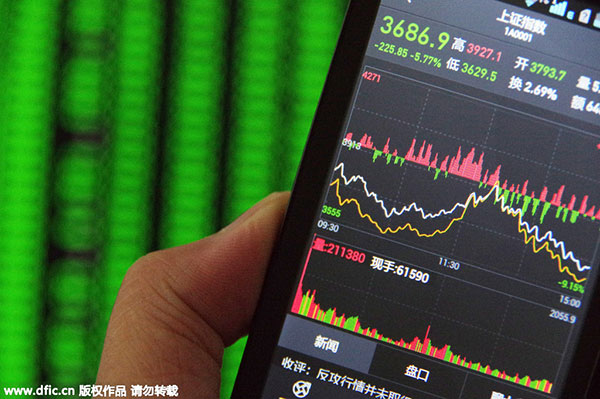 A Chinese investor watches the stock trend on the cell phone at a stock brokerage house, July 3, 2015.[Photo/IC]
Regulator says it will continue measures to help maintain stability, avoid systemic risk
China Securities Finance Corp, the State-owned margin lender which played a crucial role in halting the recent slide in Chinese stock markets, is to end its direct intervention in the market and allow market forces to play a bigger role in determining share prices.
The announcement, from the China Securities Regulatory Commission, also said however, that it would continue to take whatever steps were necessary to maintain stability and avoid systemic risk, after the recent sell-off which wiped out $4 trillion in market value between June and July.
The market continued to rebound steadily on Friday, with the benchmark Shanghai Composite Index posting a weekly gain of 5.9 percent, the largest since early June. The index rose over the psychologically sensitive level of 4,000 points during intra-day trading, but closed at 3965.34 points.
Deng Ge, the CSRC spokesman, said CSFC had transferred a proportion of its stock holdings to Central Huijin Investment Ltd, the domestic investment arm of the country's sovereign wealth fund, and Huijin will become a long-term holder of the stocks.
"The CSFC's role of stabilizing the market has not changed. It will continue to play such a role if the stock market experiences sharp and abnormal volatilities which could trigger potential systemic financial risks," he said.
Earlier media reports suggested that commercial banks had provided liquidity exceeding 1 trillion yuan to CSFC to prop up the market.
New bank lending has also surged to 1.48 trillion yuan ($240 billion), a 14.4 percent rise from the same period last year.
Economists interpreted the surprising loan growth in July as a result of the government's unprecedented efforts to support the stock market. The government's measures have also included a ban on stake sales by major shareholders.
As the temporary government rescue package is phased out and the market stabilizes, some analysts said that investors cannot rule out the chance of further volatility as several issues including this week's depreciation of the yuan may continue to weigh on market sentiment.
It is expected that the State Council, China's cabinet, will soon release a top-down reform plan for State-owned enterprises. Listed companies in the shipping and aviation industries have led the market rise over the past few weeks.
Xue Hexiang, an analyst with Huatai Securities Co Ltd, said that the reform of SOEs may also serve as a catalyst to drive up stock prices in the A-share market.
By the end of Thursday, the value of outstanding margin loans saw net gains for the fifth consecutive day, indicating improved market sentiment. The total value reached 1.37 trillion yuan, according to data from the Shanghai and Shenzhen stock exchanges.