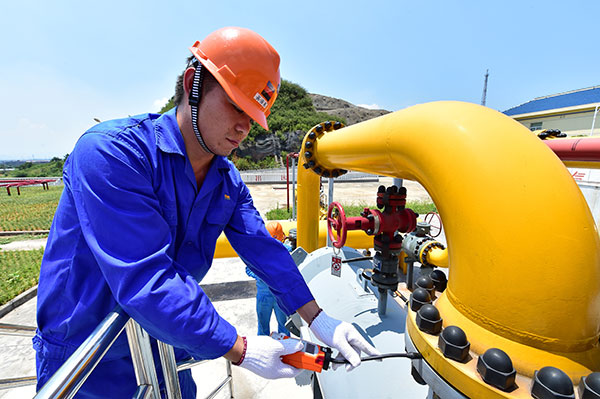 A technician from the Yiwu Natural Gas Co Ltd inspects equipment at a high-pressure gas station on July 28, in Yiwu, Zhejiang province. Imports of natural gas via pipelines rose by 15 percent during the first six months of the year. [Lyu Bin / For China Daily]
Firm plans flexible gas prices, year-round supplies to boost sales
PetroChina Co, the country's biggest natural gas producer, is said to be offering large industrial users flexible prices and a promise of year-round supply as it seeks to boost sales amid slowing demand and ample supply.
The company has set up natural gas sales units in provinces including Henan and Jiangsu and cities such as Shanghai to reach out to manufacturers and power generators, said industry sources.
An economy growing at the slowest pace in 25 years is curtailing demand and compelling PetroChina to aggressively market its gas, the latest struggle among global energy companies as prices and consumption weaken.
"China is facing a gas glut as supply exceeds demand," Bloomberg Intelligence analysts Wang Lu and Miranda Wang said in a research note on July 31.
"Amid slower industrial output growth, the competitive edge of gas has been eroded by a slump in Brent crude and a slow adjustment in gas prices."
"PetroChina sells about 45 percent of its natural gas directly to large industrial customers and the rest through utilities to other industrial and residential users," said Shi Yan, an analyst at UOB-Kay Hian Ltd in Shanghai.
The company is offering large users, such as power plants and fertilizer makers, guaranteed year-round direct supply to counter concerns that increased residential demand for heating in the winter will interrupt deliveries, according to the sources. PetroChina is also open to negotiating flexible prices for supply in the summer, when demand is lower.
China Petroleum and Chemical Corp, or Sinopec, is also promoting gas sales to customers such as power plants, an official at the company said, asking not to be identified, citing internal policy.
Beijing-based spokesmen for PetroChina and Sinopec did not answer calls seeking comments on Thursday.
China's natural gas production, including coal-bed methane and shale gas, increased 4.3 percent to 67.4 billion cubic meters in the first half of 2015 from the same period a year earlier. Consumption increased at a slower pace of 1.4 percent to 91.5 billion cubic meters, according to the National Energy Administration.
Imports of natural gas via pipelines are up nearly 15 percent in the first half of the year to 12.3 million metric tons, while inbound shipments of liquefied natural gas fell about 4 percent to 9.5 million tons, according to customs data.
PetroChina had global natural gas output of 85.8 billion cubic meters and Sinopec produced 20.3 billion cubic meters in 2014, according to their annual reports.