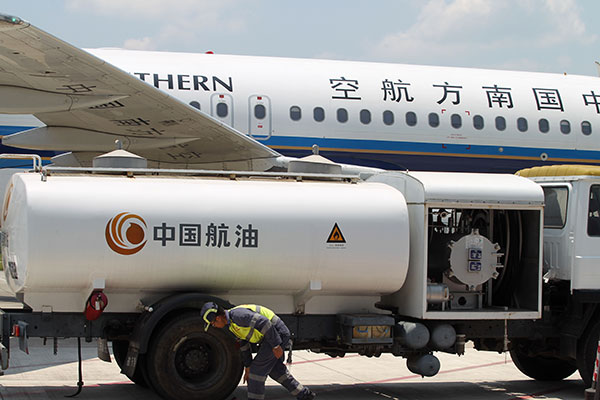 A China Southern Airlines Corp aircraft being refueled at Shenzhen Airport in Guangdong province. [Photo provided to China Daily]
Decision to stop 'hedging' on fuel prices proves winning formula for airlines
Chinese carriers stopped hedging their fuel purchases - even when prices soared above $100 a barrel. This decision was taken after many airlines were hit because of slumping fuel prices in 2008 and 2009. But now they are having the last laugh.
Air China Ltd, China Eastern Airlines Corp and other Chinese carriers are expected to benefit the most after oil prices in London fell below $50 a barrel on Monday, their lowest closing price in more than six months.
More airlines in Asia are looking to reduce the amount of fuel they buy under hedges, or at least sign shorter contracts, according to Malayan Banking Bhd. Fuel costs are the biggest expense for Asian carriers, accounting for about 40 percent of the total.
"Hedges have come off," said Mohshin Aziz, an analyst at Malayan Banking in Kuala Lumpur. "A lot of airlines have decided not to hedge, or to hedge less."
Air China, China Eastern and China Southern Airlines Co, the country's three biggest carriers, all said they do not hedge on fuel purchases, and are expecting first-half net income to jump - by as much as 743 percent in the case of Air China.
In 2008, when crude prices plunged more than 50 percent, hedges that locked in fuel at higher prices pushed Cathay Pacific Airways Ltd into its first annual loss in more than a decade. Air China and China Eastern also reported paper losses from fuel hedging in 2008.
"(Chinese airlines) haven't hedged for a long time after they suffered a big loss during the 2008-09 financial crisis, and they've been very restrained since," said Geoffrey Cheng, a Hong Kong-based analyst at BOCOM International Holdings Co.
"As a result, they're benefiting now."
AirAsia Bhd, Southeast Asia's biggest budget carrier, and its AirAsia X Bhd unit have gone completely unhedged for 2016, according to group CEO Tony Fernandes. About 50 percent of AirAsia's fuel needs for this year are hedged.
"Nice to wake up and see Brent below $50," Fernandes tweeted on Tuesday. "That's a magical number for us in the airline business."
Some Asian airlines, however, have continued hedging, despite the decline in fuel prices.
Singapore Airlines Ltd, Southeast Asia's biggest carrier, said last month that its savings from lower fuel prices were partially offset by hedging losses and a stronger US dollar in the quarter that ended in June. Before hedging, Singapore Air's fuel costs dropped 33 percent because of lower prices.
With almost 60 percent of its fuel requirements for the quarter hedged at an average of $110 per barrel, the carrier lost S$263 million ($191 million) on its hedges.
Singapore Air said it had hedged 55 percent of its jet fuel needs for the July-September quarter at an average price of $104 a barrel. Jet fuel closed at $60.06 a barrel on Tuesday in Singapore, the lowest level since the prices were first compiled in 2011.
Cathay will give an update on its hedging strategies when it announces first-half earnings later this month. In March, after Cathay announced it lost HK$911 million ($118 million) from fuel hedges last year, the carrier said it still considered it prudent to continue in case of a steep rise in fuel prices.
Hedging is an important part of the airline's risk management, Cathy's CEO Ivan Chu said.
Malaysia Airlines has no hedges in place but would like to have some - if it could afford to, CEO Christoph Mueller said on Tuesday in Sydney.
"It's less speculative to have hedges in place," Mueller said. "A fuel hedge does not come for free, and our financial means are quite constrained right now."
The airline, which was taken private last year by Malaysian sovereign wealth fund Khazanah Nasional Bhd, is undergoing a restructuring after it lost two planes in disasters last year.