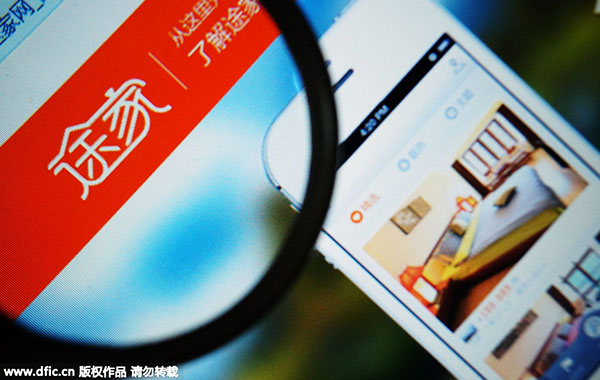 A netizen browses the website of Chinese vacation-rental site Tujia.com in Tianjin, China, June 19, 2015. [Photo/IC]
Tujia.com has raised $300 million at a valuation of more than $1 billion, as the Chinese vacation rentals site, often compared with Airbnb Inc, pursues financing to bankroll a global expansion.
All-Stars Investment Ltd led the latest round of financing, the startup said in a statement on Monday. The Chinese investment firm also backs smartphone maker Xiaomi Corp.
Tujia, which means "home on a journey", is focusing on expanding its services into Asian destinations popular with Chinese travelers, Melissa Yang, the co-founder and chief technology officer, said. Tujia expects to list 400,000 to 500,000 properties for rent by the end of the year, from more than 300,000 now, she said.
"We are speeding up our expansion to meet the demands of Chinese tourists," Yang said on Monday. "Southeast Asia is a destination favored by Chinese tourists and so that is an area of focus for us."
Its main target markets include Thailand, Indonesia and South Korea, as well as Hong Kong, though the startup already connects homeowners with vacationers as far afield as Paris and Los Angeles.
While the startup is expanding, the Chinese economy is projected to grow at its slowest pace in a quarter-century. Yang said any slowdown would actually help the business by encouraging homeowners to list their properties in order to earn additional income. Travelers would also tend to seek cheaper alternatives to hotels, she said.
Tujia, which is backed by investors including HomeAway Inc, Ctrip.com International Ltd, LightSpeed Venture Partners and GGV Capital, has undergone three previous rounds of financing.
The startup often draws comparisons with Airbnb, the service that helped foster what is now referred to as "the sharing economy".
Tujia will be adding a new service that links users directly with homeowners, Yang said, drawing it closer to its United States counterpart. In the past, the majority of the Chinese company's listings had been managed either by itself or third-party companies, instead of homeowners.