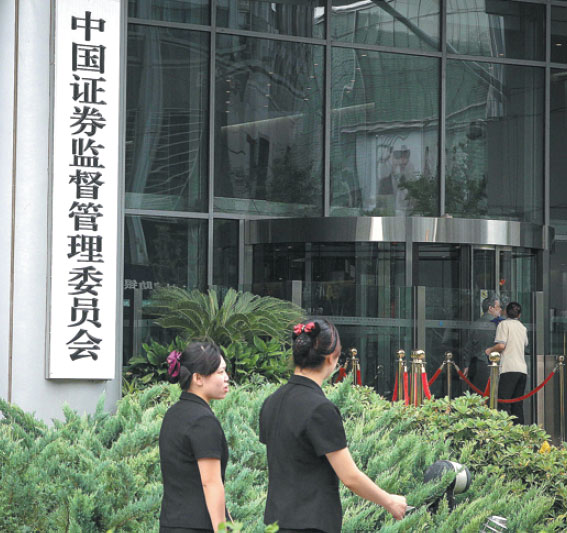 Pedestrians walk past the China Securities Regulatory Commission office in Beijing. [Provided to China Daily]

Direction of capital market reforms in China will not see any major changes, says regulator
China's securities regulator said on Friday that the temporary halt in new share offerings is a necessary measure to stem the ongoing stock market rout and the direction of the long-term, market-driven reform of the country's capital market has not changed.
The regulator dismissed market concerns that the recent swings may delay the much-anticipated launch of the registration-based scheme for initial public offerings.
The new IPO system has been widely expected to be rolled out after the amendments of the country's Securities Law by the top legislature, which is to finish the last round of review in October.
"The launch of the registration-based system is a significant step in the nation's capital market reform ... and it is a systematic and gradual process," Zhang Xiaojun, a spokesman for the China Securities Regulatory Commission, told a news conference in Beijing.
China's equities market has suffered a second dip after witnessing a massive 30 percent sharp correction after mid-June and in July.
Beijing's pledge to adopt a proactive fiscal policy and maintain a prudent monetary policy to stimulate the economy failed to cheer the weak investor sentiment on Friday.
The benchmark Shanghai Composite Index fell 1.13 percent to close at 3,663.73 points, capping the worst monthly decline in six years. Market turnover shrank as volatility surged, indicating investor sentiment has not fully recovered to the level before the market peaked in mid-June.
The regulator has adopted a series of unprecedented measures to lift the market, including prohibiting major shareholders of listed companies from selling shares, suspending IPOs and investigating short sales that may involve possible market manipulation.
The Shanghai and Shenzhen stock exchanges have imposed curbs on more than 20 stock accounts by institutional investors for possible trading irregularities.
Reuters also reported that the Chinese regulator had asked financial institutions in Hong Kong for stock trading records in order to identify investors who had taken net short positions against the mainland stock market.
But Zhang denied the report and said that the regulator has not been in contact with financial institutions in Hong Kong.
The regulator vowed on Friday to step up the crackdown on illegal selling of shares by major shareholders and to enhance punishment for malpractices in information disclosure. The regulator has investigated 52 cases and adopted 77 administrative measures against companies that violated the regulation, according to Zhang.
Current Chinese securities regulation forbids shareholders owning more than 5 percent stake of a listed company from selling their shares within six months of their purchase.