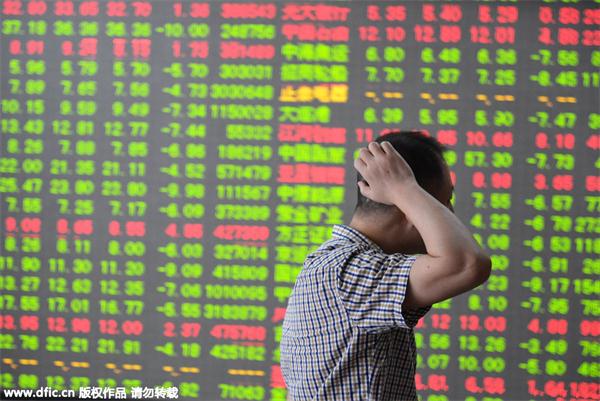 An investor at a brokerage house in Hangzhou, Zhejiang province. [Photo/IC]
China's sudden halt to a frenzy of initial public offerings came at just the wrong time for underwriters Everbright Securities Co, Guotai Junan Securities Co and China Merchants Securities Co.
The trio are the firms with the largest number of IPOs in limbo-approved by regulators but yet to be completed-after the government imposed an indefinite suspension this month, data compiled by Bloomberg show. Each has three on hold.
With 38 companies' share sales blocked before the underwriters could get them out of the door, as much as $386 million in fees has evaporated for now, based on averages for deals in the first six months.
The missing revenue adds to the hit that brokerages face from China's market turmoil, including a decline in the lucrative business of financing customers' stock purchases and the potential for trading volumes to keep falling.
"The leveraged bull run in the first half was a bonanza to Chinese brokerages in almost every business line but that is not repeatable," said Scott Hong, a Hong Kong-based analyst at CIMB Securities Ltd. "Investors have already priced in weaker profit growth going forward. That is why brokers' shares are trailing."
CITIC Securities Co, the nation's biggest brokerage, has tumbled 28 percent this year, compared with a 24 percent gain in the Shanghai Composite Index. China Life Insurance Co dumped 30 million CITIC shares on July 10.
The biggest uncertainty now may be whether stocks have found a floor via a slew of government measures, from restricting sell-downs by major shareholders to supplying trillions of yuan to try to stabilize the market. While trading volumes have fallen from the peaks of this year's boom, they remain elevated compared to past years' levels.
The securities firms also face costs from what Bank of America Corp terms their "national service", contributing to government-led efforts to prop up the market.
Twenty-one big firms have pledged a combined 120 billion yuan ($19.3 billion) for a stock-purchasing fund and promised not to sell their proprietary trading positions until the Shanghai Composite Index rises to 4,500. The index was around 4,000 on Tuesday.
"For sure there will be collateral damage along with the rescue efforts," said Zhang Yanbing, a Shanghai-based analyst at Zheshang Securities Co. "As long as the market returns to stability, I think brokerages should be able to cope."
The IPOs that did not quite make it out the door include Bank of Jiangsu, a sale which may raise as much as 23 billion yuan, according to an estimate by Sinolink Securities Co. The offerings lined up by Everbright, Guotai and Merchants include Inner Mongolia Dazhong Mining Co, Qianhe Condiment and Food Co and Shenlong Elevator Co.