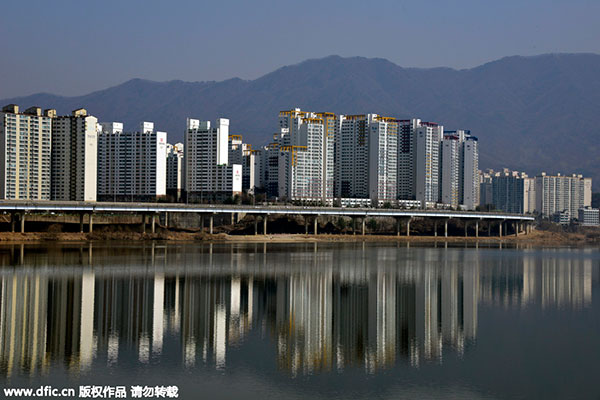 Highrise apartment buildings in the satellite city of Deokso-Ro, a suburb of Seoul, South Korea, are reflected in the Han river, March 16 2013. [Photo/IC]
Chinese investors are eyeing Japan and South Korea as new destination choices, after Australia and the US, to add to their worldwide property shopping spree.
An index gauging willingness to buy Japanese real estate has spiked more than 20 times over the past year, according to Juwai.com, an online marketplace for Chinese property buyers.
In the meantime, Chinese investors account for a majority of the 41.6 percent of land owned by foreigners at South Korea's southernmost resort island, Jeju, Yonhap News Agency reported on Monday.
Data shows more than 90 percent of properties owned by Chinese are large-scale tourism complexes, golf courses and other resort facilities, a Jeju official said.
The heat came amid Chinese buyers pumping money into the world's market, as property investments at home slowed after years of rally.
Chinese outbound property investment totaled a record $7.5 billion in the first quarter of this year, after increasing 21 percent in 2014 to $17 billion, according to international real estate service provider Jones Lang LaSalle (JLL).
The JLL expects transactions in 2015 to hit $20 billion.
Chinese property shoppers travel in groups to Japan, a property company helping to arrange such a field trip twice a month told China Business News on Tuesday.
The real estate transactions sealed by Chinese buyers tripled in the first half of this year, compared to the second half of 2014, the newspaper said, citing industry figures. Among all, apartments and hotels in Japan are popular investments.
As of the end of June, foreign ownership at Jeju came to 20.78 square kilometers, or 1.12 percent of the island's total land area of 1,849 square kilometers, according to Yonghap, citing government data.