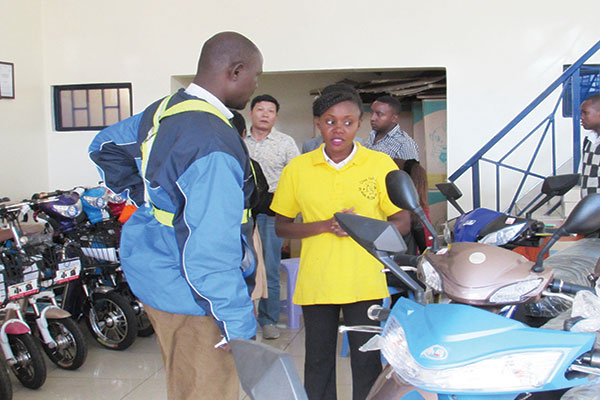 A saleswoman chats with a customer about e-bikes at the Chee Tah store in Nairobi, Kenya. [Photo/China Daily]
Chinese-made 'new-energy' vehicles aim to crack the African market with affordable models
Kenya has not been left behind as the world turns to new-energy solutions, with the country adopting a raft of policies related to the green economy, according to the Green Economy Assessment Report 2014 by the United Nations Environment Program.
The policies include implementing renewable energy feed-in tariffs in 2008, embedding sustainable natural resource utilization into its 2010 constitution, and highlighting the green economy in its Second Medium Term Plan (2013-2017).
Other moves highlighted in the UNEP report include the adoption of a national climate change response strategy and an action plan that seeks to embrace a low-carbon development pathway.
"Through the Greening Kenya Initiative, the government has developed a database on green economy activities, which highlights efforts such as in manufacturing eco-friendly materials, tree planting, organic farming, fish farming, renewable energy, eco-labeling, and solid waste management and environmental management," the report said.
The document was released after a study commissioned by the UNEP at the request of the Ministry of Environment, Water and Natural Resources.
In the same vein, a Chinese-owned company that has been in Kenya since 2011 has introduced several electric bike model aimed at helping to implement a green African economy.
Chee Tah Kenya Ltd, which is based in Central China's Hubei province and manufactures and exports Small Island e-bikes, opened a new store in Nairobi's Lunga Lunga Road in early July.
Small Island bicycles have been a common sight in eastern China for decades, and in 2003 the brand began to make e-bikes.
Zhang Xuefeng, director of Chee Tah Kenya Ltd, said that over the past 12 years, the company has ramped up production to more than 500,000 units in minimum annual output and has sold millions of e-bikes in China and across Asia.
He said the company is focused on introducing e-bikes that are durable, high quality, affordable and environmentally friendly to the African continent. He believes his company's products have the vast potential to positively affect socio-economic development in a short period of time.
"Chee Tah plans to penetrate the African market by having Nairobi as its base," he said. "We chose Nairobi because Kenya has a lot of advantages over other African countries. First, it has a growing working-class population who need reliable transport. It has a vibrant and growing economy, and it also has traffic jams."