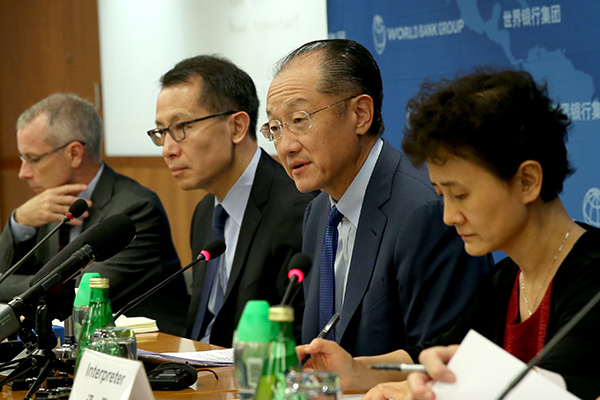 World Bank Group President Jim Yong Kim (second from right), speaks at a news conference in Beijing on Friday. Kim said China's economy is strong and its fundamentals are sound, while lauding the government's reform efforts. [Photo provided to China Daily by Wu Zhiyi]

World Bank chief says nation more than capable of achieving annual growth target of around 7%
China is still the mainstay of global growth and its economy is more than capable of achieving the annual growth target of around 7 percent despite the recent market swings, World Bank Group President Jim Yong Kim said on Friday.
"In light of the stock market fluctuations recently, I would like to emphasize that we believe China's economy is strong and its fundamentals are sound," Kim said at a news conference during his two-day visit to Beijing.
He said that the "around 7 percent" GDP growth rate is "still the envy of the world". "There's no question that China is increasing its role in development around the world."
Kim said that he has taken note of the Chinese government's efforts at pushing ahead with reforms while dealing with the recent stock market turbulence, which has seen the benchmark stock index plunge by more than 30 percent.
While meeting Kim on Thursday, Premier Li Keqiang said the government has taken a series of measures to stabilize the stock and monetary markets, all for the purpose of "creating a fair, open and transparent environment of market reforms for the long term."
Economic and social reforms will continue to transform China's growth model toward more efficient, equitable and environmentally sustainable growth, said Kim.
China will continue to carry on reforms in all sectors, and ensure the economy grows within a "reasonable range".
"We have seen progress in several reforms, including lower credit growth, better regulation of shadow banking, and better management of local government borrowing. These reforms hold the key to China's continued economic success."
Premier Li Keqiang met with Kim on Thursday, and said that the Chinese economy has great resilience, potential and room for maneuver.
GDP growth stabilized at 7 percent in the second quarter of the year, largely unchanged from the first quarter figure, but higher than previous market estimates of 6.8 percent.
More positive signs are emerging besides the GDP growth rate, as the services sector expanded its contribution to total GDP to 49.5 percent from 47.4 percent a year earlier, compared with the industrial sector's 43.7 percent. Agriculture accounted for the rest.
Commenting on the government's recent market intervention measures, including injecting liquidity to the market, Kim said measures like this and many others have been adopted by governments across the world to cut excess volatility in the stock market.
"The Chinese leadership's commitment to reforms, including fiscal, financial and the hukou (permanent residence registration) system, is stronger than ever. We are confident that the reform process will continue," he said.
During Kim's visit, China signed an agreement on Thursday with the World Bank to establish a $50 million trust fund to finance efforts to fight poverty.
The World Bank president also met with the leadership team at the Multilateral Interim Secretariat of the Asian Infrastructure Investment Bank to discuss expanding cooperation between the two institutions.
"We agreed with Secretary-General Jin Liqun and the interim secretariat to explore co-financing options in the coming months," said Kim.