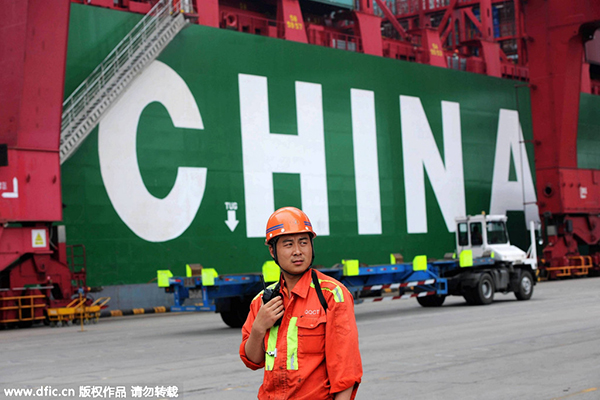 A stevedore works at Qingdao port in Shandong province, July 1, 2015. [Photo/IC]
China's gross domestic product expanded by 7 percent in the second quarter compared to the same period last year according to data released on Wednesday by China's National Bureau of Statistics. It maintains the same growth rate as the first quarter and matches the government's target for the full year.
Under stable growth, we can see structural changes.
First, growth is mainly driven by the tertiary industry, whose year-on-year expansion is 8.4 percent, compared with 7.9 in the first quarter. This may be related to the stock market and the real estate sector.
In the second quarter the value of the stock market is increasing rapidly, which helps increase profits of financial institutes. After the new mortgage policy, sales in the real estate sector rebounded significantly, and this helps the growth of the tertiary industry.
The second industry growth rate is only 6.1 percent, which is another lower level compared with the first quarter, suggesting that traditional industry is still facing structural adjustment.
As to the structural contributions of investment, consumption and export, the National Bureau of Statistics released only the contribution of consumer spending. The annual total consumer spending is about 60 percent. Compared with the second quarter of last year, the ratio is up 5.6 percent, about 4.2 percentage points contributing to the ultimate growth rate of GDP.
According to data on imports and exports in the first half, we can infer that the contribution of net exports to GDP has also improved. So we may conclude that the demand of domestic and foreign is the main driving force of GDP growth.
Although the real estate industry as well as traditional manufacturing industry has caused some drag on GDP, the government's timely introduction of the "steady growth" stimulus also played a proper cushioning effect.
But there are some worries.
First, relatively ample liquidity has caused a prosperous capital market, but the money has hardly flowed into the real economy. However, the use of leverage causes bubbles and as the deleverage process goes on in the second half of the year the positive effect to the tertiary industry cannot be so strong.