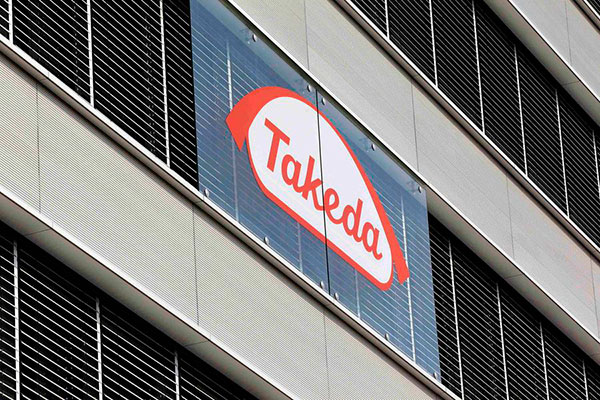 The logo of Japanese Takeda Pharmaceutical Co is seen at an office building in Glattbrugg near Zurich, in this March 7, 2012 file photo.[Photo/Agencies]

Japanese pharmaceutical company expects double-digit surge in 3 key market segments 
Takeda Pharmaceutical Co Ltd, considered Asia's largest drugs company by sales, expects China to lead the industry's growth across the emerging markets.
Officials at the Japanese company predict that the China market will enjoy 25 percent compound annual growth until 2017, much higher than other main emerging markets, which they say will have an average of 13 percent annual growth.
Christophe Weber, president and chief executive officer of Takeda, said the company's business in China increased 20 percent last year and that the country is one its three biggest emerging markets, along with Russia and Brazil.
According to its plan, emerging market sales will contribute 27 percent of Takeda's total by 2017, although he underlined that emerging regions especially are prone to peaks and troughs and remain difficult to forecast.
Weber said emerging markets have huge populations, meaning massive demand for medicines, including China where it has seen constant business growth. To expand its business in emerging markets, Takeda has established a speciality business unit focusing on offering more flexibility to local buyers, said Weber.
The company has several facilities in China, including a research and development center in Shanghai and a factory in Tianjin. The latter used to export its products to other countries but shifted three years ago to focus solely on the Chinese market because "China's demand is too huge", said Haruhiko Hirate, Takeda's corporate communications and public affairs officer.
Weber said he expects the Tianjin factory to be even busier in future, as sales grow in China. According to the China National Pharmaceutical Industry Information Center, China's medical care market is predicted to be worth more than 2.2 trillion yuan ($354.4 billion) by 2019. "The market will maintain double-digit growth as the population continues to age, health awareness improves, and affordability (of medicines) grows," said Guo Wen, the center's director.
Weber said it is vital for foreign pharmaceutical firms to closely monitor any changes in the local markets, to ensure facilities are designed to meet specific needs.
He took over the Takeda helm in April 2014, becoming the first foreign president in its 230-year history, and has since spent increasing amounts of time in China, he said, to learn more from its local employees, partners and sales teams.
He noted that China's medical tendering process and its industrial distribution systems are still changing, and his company needs to adopt new solutions to cope with those. His main goal is to turn the Japanese company into a truly global enterprise.
Over the past year, he explained, Takeda has been reorganized and three main growth areas identified, driven by strong current demand: gastroenterology (the branch of medicine focused on the digestive system and its disorders), oncology, or cancer care, and value brands, including its range of over-the-counter and generic drugs-all three of which Takeda has rich experience and strong research ability, he said.