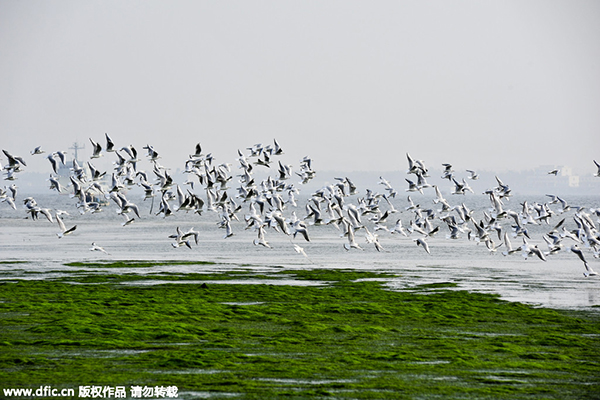 The black-headed gull habitat in Zhanjiang, Guangdong province, Jan 21, 2014. [Photo/IC]

Guangdong, Guangxi sign Customs deal to boost 'Belt and Road' trade
Guangdong and Guangxi Exit-Entry Inspection and Quarantine Bureaus signed a memorandum to facilitate trade activities in the Beibu Gulf Zone - where Zhanjiang city is situated - with countries along the Belt and Road.
According to the agreement, the two bureaus will each be responsible for their own quarantined goods, and the Customs will release the good directly at the port when green lighted.
A negative list will be released at regular intervals to exclude products that are not qualified for direct Customs clearance, a mechanism that will better regulate the trade market.
Companies with credit ratings of A or above could get clearance certificates directly from any quarantine institutes along the Zhujiang - Xijiang Rivers Economic Belt for their goods that are not on the list.
Meanwhile, as the memo noted, the two bureaus would exchange related information, supervise and help each other to increase efficiency of Customs clearance.
As a major port city in the Beibu Gulf Zone, Zhangjiang has become an important gateway to the 21st Century Maritime Silk Road and the Association of Southeast Asian Nations, and a cooperative strategic city of "One Belt and One Road" in China.
Statistics show Zhanjiang-quarantined exports and imports with countries along the Road were valued at $1.52 billion from January to May this year, which accounted for 28.5 percent of the city's total bilateral trade during the same period.
Quarantined goods traded via Zhanjiang reached 1,116 batches and were valued at $1.76 billion, accounting for 16.6 percent and 32.9 percent respectively of total trade via the port.