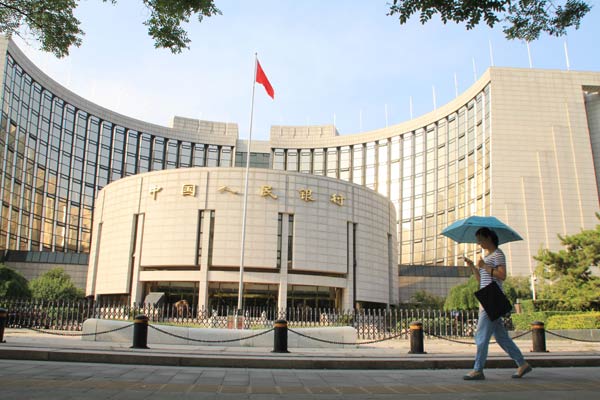 The headquarters of the People's Bank of China in Beijing. [Photo by Shi Yan/China Daily]
Central bank will provide "ample liquidity" to help stabilize the country's stock market, it announced on Wednesday, minutes after the benchmark index plunged 7 percent at the opening.
The Shanghai Composite Index traded at 3,553.18 as of 11 am, narrowing its loss to 4.7 percent after the announcement. The gauge has retreated 30 percent from the June 12 peak.
The central bank will actively assist China Securities Finance Corp, a State-owned facilitating margin loan service among brokerages, to obtain ample liquidity through channels including loans and bonds, it said in the open statement.
"The People's Bank of China will pay close attention to market moves and do whatever it can to prevent systemic risks."
It was the first time the central bank made voice since the rout, as traders unwinded their leveraged positions at a record pace, leaving investors shudder in fear.
The statement was published after earlier regulatory moves failed to stem the plunge, with market gauges heading for a four-month low.
The State Council ordered the suspension of new public offerings over the weekend to unleash liquidity locked up in share subscriptions, while brokerages and executives from 25 mutual funds as well as social security fund vowed to buy stocks.
The Shenzhen Component Index traded at 10,959.40 as of 11 am, down 3.7 percent.
Over one-third of the companies listed on the Shanghai and Shenzhen exchanges were suspended from trading on Tuesday.