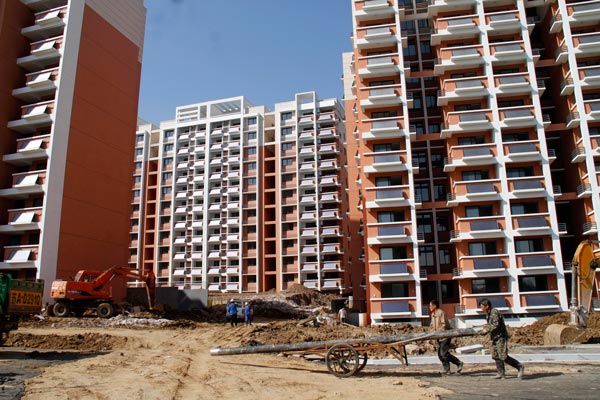 A property construction site in Nanjing, capital of Jiangsu province. [Photo/China Daily]
Upmarket homes in Shanghai's prestigious downtown locations are becoming increasingly popular as prices pick up.
Figures released by Dooioo, a high-end property agent in the cosmopolitan city, showed that new villa sales in May topped 750. That was a 9.6 percent rise compared to the same period last year, and a 159 percent month-on-month increase.
"After years of sluggish sales, the high-end market is starting to grow again," Wang Cheng, a property agent with Shanghai Baiye Realty Services Ltd, said. "Buyers are trading up for more spacious homes in nice neighborhoods."
Residential property sales have certainly rebounded in the fashionable Bund area in the old city as well as apartments located along the Huangpu and Suzhou rivers. The turnaround in prices this year followed a sluggish 2014 when sales growth stagnated as buyer sentiment waned.
According to statistics released by Dooioo, 1,153 upmarket homes, with an average price of 50,000 yuan ($8,051) per square meter or higher, were sold in May. That was a 40 percent increase compared to April and a 500 percent annual rise.
In Shanghai, transactions in apartments from 90 sq m to 210 sq m make up around 60 percent of the city's total sales in terms of value.
But apartments priced around 60,000 yuan per sq m are among the hottest properties on the market, data from the real estate information website, Fang.com, highlighted.
Downtown areas have become the favorite locations because of parks, restaurants and shopping centers.
Mao Guizhen paid 16 million yuan for a three-bedroom apartment in the Huangpu district in April.
"When my husband and I considered buying an upmarket property, we decided to look at the downtown areas," the 35-year-old housewife said. "It was not just about the apartment. We needed to be near places where the children could play after school as well as easy access to restaurants and shopping districts."
This younger generation of home buyers are staying closer to the city center, unlike their parents who opted to move out to the suburbs.