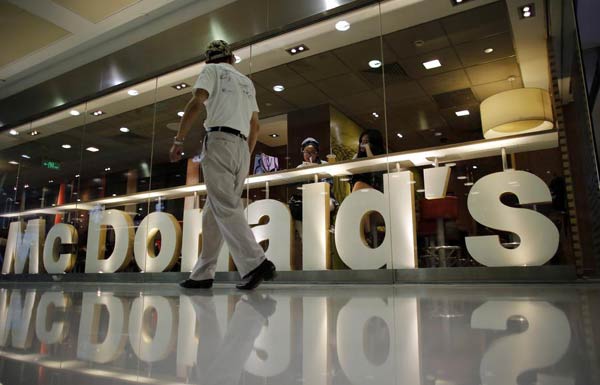 A man walks next to a McDonald's restaurant at a shopping mall in Shanghai July 28, 2014.[Photo/Agencies]
McDonald's Corp is opening four do-it-yourself burger concept stores this year in China as the global fast-food giant works to lure Chinese consumers back to its restaurants after last year's supply chain scandal.
McDonald's China Chief Executive Officer Phyllis Cheung told China Daily on Tuesday that the company is opening three "Create Your Taste" concept stores in downtown Shanghai and one in Guangzhou. The model will be expanded to Beijing and Shenzhen next year. Two have already opened in Shanghai.
Consumers can choose from 24 ingredients to make their own burgers at these restaurants. The concept store, which originated in the United States, has also been developed in Australia, New Zealand, Singapore and Kuwait, making China the sixth market out of 119 countries and regions where McDonald's has a presence.
Cheung said the number of guests at the first two stores in Shanghai exceeded the company's expectations.
The CYT restaurant in Shanghai involves the McCafe section, which itself has more than 800 outlets in China. Cheung said McCafe offers alternative options for the adult members of a family when their children are eating burgers. McCafe also "elevates the in-store experience as a community store rather than simply a fast-food chain", she said.
The largest fast-food chain, KFC, a unit of the US-based Yum Brands Inc, also announced on Tuesday that it had formed a collaboration with Alipay, the financial arm of Alibaba Group Ltd, which dominates China's third-party payments market. The Alipay mobile payment system will be offered at more than 700 restaurants in Shanghai and Zhejiang province, and it will gradually expand nationwide in the hopes of attracting younger consumers.
Jason Yu, general manager of Kantar Worldpanel China, said that the DIY concept will attract younger shoppers who aspire to a more personal shopping experience. It will also create some interesting opportunities to reinvigorate the brand image.
However, Yu said this move would not have a significant impact on the overall performance of the chain, as the impact of the concept store is only likely to be felt in bigger cities.
The Chinese catering market is becoming increasingly competitive, with consumers favoring Western eateries that provide healthier meals such as Wagas or Element Fresh and leisure lifestyle experiences such as Starbucks, said Yu.
Fast-food chains are also trying to recover from the product quality scandals of recent years and restore consumers' confidence, he said.
Last July, Shanghai Husi Food Co Ltd, a supplier to leading fast-food brands such as McDonald's, KFC and Pizza Hut, was found to be using expired meat in its products. Six of the company's senior executives were arrested.
To enhance the safety of its supply chain, McDonald's increased the number of surprise audits and installed closed-circuit cameras at key locations in manufacturing facilities. An independent food safety supervising unit was set up, reporting directly to the CEO. Other measures include food safety training for employees and suppliers as well as reporting hotlines.