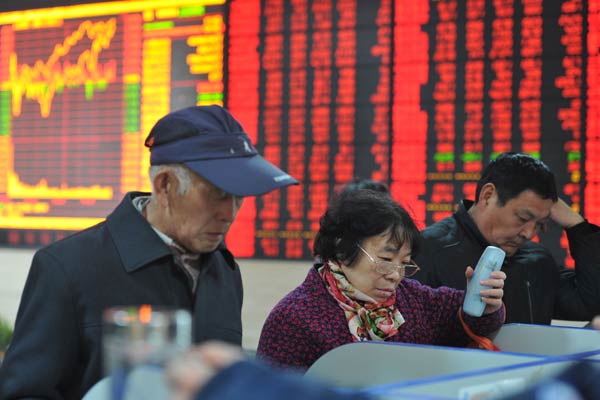 Investors examine share prices at a brokerage in Fuyang, Anhui province. [An Xin/China Daily]
Internet stocks topped the A-share gains in the first half of the year, with the ChiNext, a Nasdaq-style gauge for Shenzhen-listed growth enterprises, surging 94.2 percent despite recent volatility.
Financial shares edged up the slightest among all sectors, according to data provider Wind, with non-banking measure climbing 1.8 percent and banking 9.1 percent.
The benchmark Shanghai Composite Index jumped 32.2 percent over the past six months, while the Shenzhen Component Index rallied 30.2 percent.
Amid the market bull, the market value has grown by 21.2 trillion yuan into nearly 58.5 trillion yuan as of June 30, reported China News Agency.
A total of 192 companies went public in the first half of this year, according to Wind, raising a combined of 146.6 billion yuan.
Among all new shares, Shenzhen-listed Baofeng Technology Co topped the markets with a 31.6-time surge since its debut on Mar 24.
The number of A-share accounts opened by Qualified Foreign Institutional Investors increased by 12 in May to 876, extending the growth streak to 41 months, latest data from China Securities Depository and Clearing Corporation showed.
The QFII and Renminbi Qualified Foreign Institutional Investors (RQFII) quota that can be used to buy mainland financial assets grew $3.3 billion and 10 billion yuan respectively last month, according to data released by the State Administration of Foreign Exchange on Tuesday.