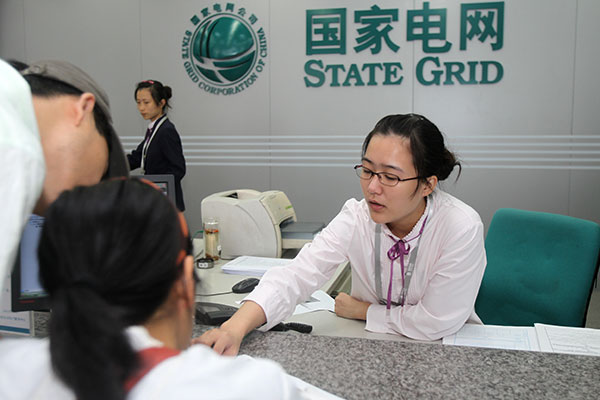 An outlet of the State Grid Corp in Nantong, Jiangsu province. [Photo/China Daily] 
Utility company inks transmission facility agreements with Russia, Kazakhstan
State Grid Corp of China, the largest State-owned electric utility company in the world, has inked agreements with Russia and Kazakhstan for cross-country electricity transmission lines as part of its efforts to expand its overseas presence.
During an industrial forum focusing on ultra-high voltage transmission lines held in Hohhot, Inner Mongolia autonomous region on June 18, a State Grid official who declined to be named said the company has made substantial progress on four cross-country power transmission lines with Russia, Mongolia, Kazakhstan and Pakistan.
The company plans to accelerate energy communication among the countries on the Belt and Road Initiative by connecting the power delivery and ultra-high voltage transmission lines.
Wang Yiping, director of planning department of the company, said ultra-high voltage transmission technology enables large-scale energy delivery between long distances, an important part of the "Belt and Road" strategy.
Wang Xuedong, senior engineer of the development and planning department with the State Grid, said during the forum that the ultra-high voltage power transmission has made the "global energy Internet" a reality.
"The global energy industry is facing challenges from resource shortages, environmental pollution and climate change, and clean energy supply is an important tool to solve the problems," he said. "To raise the percentage of power use at the consumption end is an effective way to cut emissions and increase efficiency."
Ever since President Xi Jinping announced the Silk Road Economic Belt and 21st Century Maritime Silk Road during his visit to Kazakhstan and Indonesia in 2013, the term has been extensively discussed among government officials and company leaders.
The initiative has attracted many Chinese companies to invest in infrastructure construction and energy sectors in the countries along the new trading routes.
Wang Zhixuan, secretary-general of the China Electricity Council, said: "The Belt and Road Initiative has brought new opportunities to power companies. Power companies should accelerate their steps in overseas markets and improve their service levels. The government should give more guidance to the industry and complete related policies to ensure healthy development and enhance competitiveness."
Clean energy, including solar and wind, is currently the sector most sought after globally. As the biggest renewable power producer and consumer, China has rich experience in clean energy production and distribution, which can be applied to cross-country power connections.
Most countries along the Belt and Road have rich wind and solar energy resources, which means a promising future for renewable energy supply structure, said Wang.