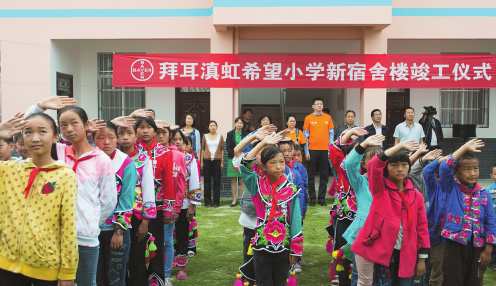 Students at Liufeng Primary School in Mouding county, Yunnan province, Celina Chew, president of Bayer Greater China Group, and Warren Jiang, general manager of Bayer Dihon, take part in a completion ceremony for a new dormitory built with the help of the company. [Photo/China Daily]
Eleven-year-old Pu Mingzhi and 8-year-old Pu Mingtao, students at Liufeng Primary School, are looking forward to moving into a new dormitory built by German pharmaceutical company Bayer AG and local education authorities.
The cousins are among 31 students at the school who have to board because their families live too far away.
The school, tucked away in a mountainous area, is in Mouding county in Southwest China's Yunnan province.
The pupils have been living in the teaching building as the school's old dormitory had become too dilapidated to sleep in. Some students have to share a single bed because of the limited space.
Liang Qinglin, one of the school's six teachers, said he was "very grateful" to Bayer, which has helped build a new two-story dormitory for the students.
Two years ago, Yunnan members of the Chinese Peasants' and Workers' Democratic Party and local education authorities asked Dihon Pharmaceutical Group Co to help build a new dormitory for the pupils.
The Yunnan-based pharmaceutical manufacturer donated 300,000 yuan ($48,302) to help build the dormitory on July 25 last year and Bayer continued the project after acquiring Dihon in November.
A dozen Bayer volunteers visited Liufeng Primary School on June 11 and 12 to paint the walls, play games and install bookshelves to celebrate the completion of the dormitory with the pupils.
The students will probably move into the new dormitory by the end of June, according to Meng Shaocheng, president of Liufeng Primary School.
Liang said the pupils' accommodation conditions had been even worse before the teaching building was completed in November 2013.
Some classrooms were separated by just a curtain, with classes held on one side and the other side used as a dormitory where four pupils would sleep in two-square-meter area.
When it rained, the tile roof usually leaked and students had to use basins to catch rainwater, Liang said.