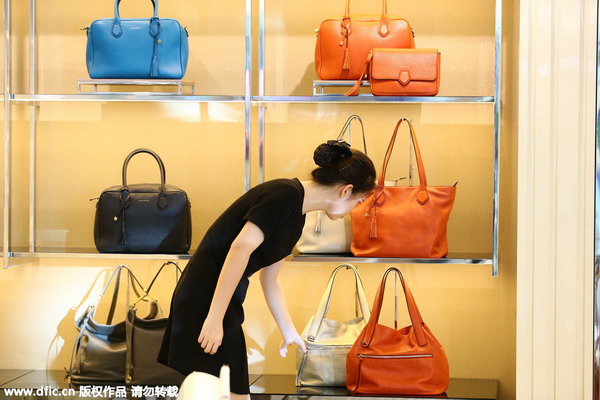 Bags of foreign brands are displayed at the Haitang Bay Duty Free Shopping Center in Sanya, Hainan province, Sept 27, 2014.[Photo / IC]
Competition, shopping outlets likely to reduce the amount consumers pay in domestic market
The latest tariff rate cut, along with other factors, will eventually narrow the price gap for consumer goods between the domestic and overseas markets, a Commerce Ministry official said on Friday.
Wang Shouwen, China's vice-minister of commerce, made the statement at a media briefing when asked about the impact of the decision to lower the tariff rate on 14 types of imported consumer goods, ranging from sneakers to diapers.
To induce consumers to spend more at home, China announced on Monday that it would cut the tariff rate on selected imported goods by an average of about 50 percent.
Import tariffs for Western style suits and furs will be reduced to between 7 to 10 percent from 14 to 23 percent, while taxes on sports shoes will be cut roughly in half to 12 percent. Tariffs on diapers and skin care products will drop to 2 percent from 7.5 percent and 5 percent, respectively.
The move is designed to encourage more Chinese to spend at home rather than overseas. Record numbers of middle-class Chinese are spending heavily overseas or buying cheaper consumer products from foreign websites through overseas shopping agents.
Chinese consumers have complained that they usually have to pay 20 percent more or higher for the same products sold in China than, for example, in a European market.
Three major taxes are levied on imported goods - value-added tax, import tariff and consumption tax (for some products) - and these contribute to higher retail prices in China.
However, foreign brands also have adopted a higher pricing strategy in China, experts said. Competitive pricing does not help the perception of exclusivity of a brand, said Mario Ortelli, an analyst at investment research firm Sanford C. Bernstein.
The situation is particularly so in China, where so-called showoff shopping is pervasive.
However, Chinese consumers' psyche is changing, Wang said. "Conspicuous consumption used to prevail among Chinese, who drove up demand for pricey foreign branded products. Foreign brands catered to the demand. Now, consumers return to rational, and the demand for foreign brands is less strong," Wang Shouwen said.
Other factors also drive foreign brands to lower prices, which, according to Wang, include more distribution channels for foreign brands, notably "outlet stores", and rising competitiveness of domestic brands.
Already, some famous foreign brands are joining the price-cut trend. L'Oreal, the French cosmetics giant, immediately announced it planned to lower prices beyond the tariff cuts ina bidto expand on its market share among foreign skin care products.
However, Procter & Gamble, a leading US consumer products company in China, said it would take a wait-and-see approach.