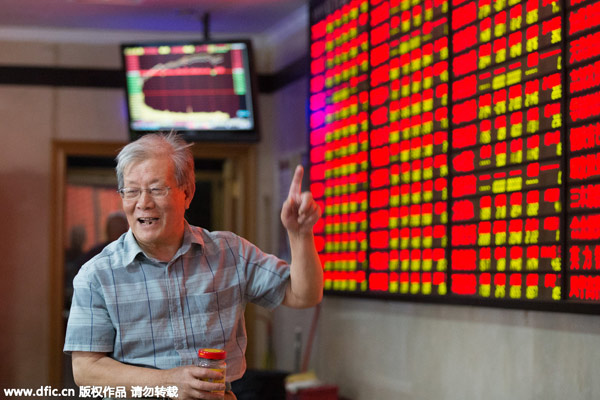 Investor at a securities brokerage in Nanjing city, East China's Jiangsu province, May 25, 2015. [Photo/IC]
LONDON - FTSE, a London-based global index provider, announced on Tuesday it has started the transition to include China A Shares in its global benchmarks with the launch of two transitional indexes for Emerging Markets.
The two new Emerging Markets indexes include China A Shares at a weighting equivalent to total RQFII allocations and the initial weighting of China A Shares in the FTSE Emerging inclusion indexes will be approximately 5 percent, according to FTSE's announcement.
This is expected to increase to 32 percent (at March 31 2015 market values) when China A Shares are fully available to international investors, and hence resulting in Chinese stocks (including B-Share, H-Share, P Chips and Red Chips) to make up 50 percent of FTSE Emerging Index, it added.
"The inclusion of China A Shares is the most significant challenge today facing global benchmark providers," said Mark Makepeace, Chief Executive of FTSE Russell.
"The transition to include A Shares in global portfolios is now beginning and we will support this transition while ensuring that all users of our global benchmarks have sufficient time to manage the change," he added.
FTSE Russell is a global index leader that provides innovative benchmarking, analytics and data solutions for investors worldwide.
FTSE Russell calculates thousands of indices that measure and benchmark markets and asset classes in more than 80 countries and regions, covering 98 percent of the investable market globally and trading on over 25 exchanges worldwide.