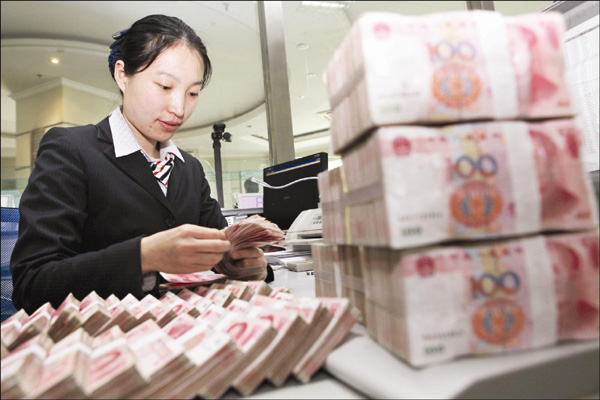 A teller counts money in a bank in Ganyu county, eastern Jiangsu province. The IMF is expected to declare soon that the currency is now fairly valued. [Photo/China Daily] 
South Korea, which sends around a quarter of its exports to China, is one of the few countries in the world to run a trade surplus with the Asian giant.
South Korea gets components and resources from China and sends back semiconductors, machinery, cars, ships, mobile phones and television sets. In March, South Korea enjoyed an $8.4 billion trade surplus. Last year, trade between the two countries added up to $290 billion.
Both countries want more of this trade to be done in yuan, which would make trade cheaper by avoiding the need to convert funds into US dollars or euros before completing trades.
Earlier this year, South Korea became one of the newest offshore yuan trading centers.
"What the (South) Korean government has done is make sure that the country enjoys the full benefit of keeping the money onshore," said Wenlin Juang, head of market development for North Asia with news agency Thomson Reuters.
South Korea is not alone in pushing to do more business based on the Chinese currency, particularly in Asia where the Chinese mainland is the largest trading partner of many countries in the region. In fact, rare is the country in the region that is not working hard to take a larger chunk of yuan-denominated business.
The yuan's momentum will get a fillip if the International Monetary Fund includes the currency in its Special Drawing Rights basket in October.
This would make the yuan one of just five global currencies included in this elite pool of global reserve currencies. At the moment, the SDR includes the US dollar, the euro, the British pound and the Japanese yen.
There are more than 60 central banks around the world that invest in the yuan, and China has currency swap agreements with 30 countries. As of April, currency swap deals had added up to 3.14 billion yuan ($500 million).
In Asia and surrounding regions, the Chinese mainland has agreements with South Korea, Malaysia, Indonesia, Singapore, New Zealand, Uzbekistan, Mongolia, Kazakhstan, Russia, Thailand, Pakistan, Australia, Sri Lanka, Qatar and Nepal as well as the Hong Kong and Macao special administrative regions.
"The use of the RMB outside the mainland has picked up a lot of speed in the past few years," Vincent Lee, executive director of the Hong Kong Monetary Authority, said at a conference last month.