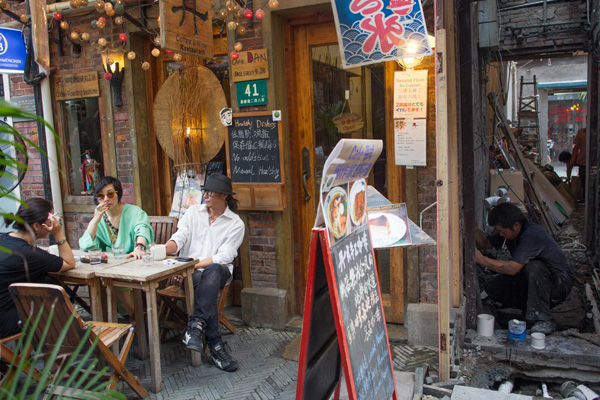 Customers sitting outside a cafe built after the renovation of an old house in Shanghai. An increasing number of young well off people in the city like small and high end units because they spend more time outside than at home. [Photo/China Daily]
Shanghai's upmarket homes shrink in size as young well-off prioritize quality of life
Small is the new big for the high-end residential apartment market in Shanghai.
This trend is rising as China's urban landscape changes and the lifestyle of younger well-off people shifts awas from the traditional big family.
New buyers of upmarket housing tend to choose smaller units in central locations, which is also transforming the outlook of developers.
"I am looking for a smaller home of around 100 square meters, which is big enough for me and my wife," said Liu Yukun, a 35-year-old marketing director of a trade company in Shanghai.
His budget is about 7 million yuan ($1.12 million), which could buy him a spacious four-bedroom apartment or even a small villa in suburban Shanghai, but he said what he prioritizes in life is strong connections with friends, a thriving nightlife and convenient access to decent restaurants, supermarkets and bars within walking distance.
Liu is not alone among the younger well-off people who spend more time outside than at home, and therefore require less space at home and more amenities in their neighborhood.
According to data from online residence market information services provider Fang.com, transactions in apartments between 90 and 210 square-meters in Shanghai accounted for around 60 percent of the city's total transactions in terms of value since 2010.
Apartments priced around 60,000 yuan per-square-meter are among the hottest properties in Shanghai.
Developers are eyeing central locations which offer limited land supplies but more opportunities to leverage resources from existing facilities.
Xu Hongming, managing director of Shanghai Wanye Enterprise Laoximen Real Estate Development Co Ltd, which is building a new residential community on a 43,000 square meter-sized land parcel, said he believes that land in the heart of city center promises value growth and will help to rejuvenate the traditional urban landscape.
"Primary locations are usually blessed with a relatively complex and mature urban planning scheme that enables easy access to traffic, shopping and socializing. Our aim to develop a high-end housing community in the heart of Shanghai is to enable more residents to get greater use of resources in the traditional heart of the city.
Xu said thatt adding a high-end residential project to the city center will also help to rejuvenate the traditional community by adding more vitality to it and encouraging more projects to come.