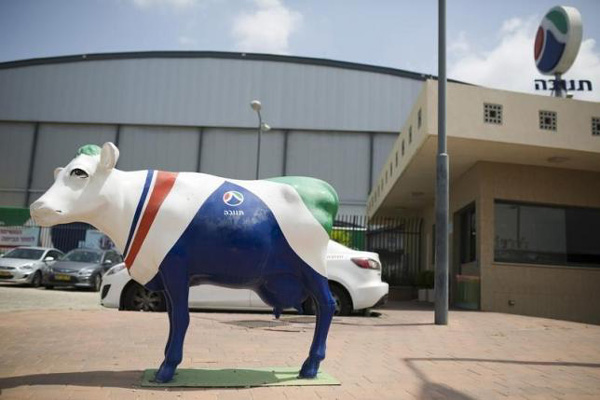 A statue of a cow painted in the colours of dairy firm Tnuva's logo stands outside the company's logistic centre in the southern town of Kiryat Malachi May 22, 2014. [Reuters/Amir Cohen]
When one of China's biggest food companies was looking to boost its dairy output it turned to Israel's tiny market, paying about $1.1 billion for control of the country's largest food maker.
Even though the company Tnuva is focused on the Israeli market, China's Bright Food was attracted to its efficiency in milk production and cutting-edge technology in quality control for use in China, where demand for dairy products is surging.
The deal is the latest example of how M&A activity in Israel is shifting from the booming high-tech sector, which has been the focus for nearly two decades and is now valued at some $40 billion, or nearly 13 percent of gross domestic product.
High-tech firms are increasingly going for listings rather than seeking buyers, but Israel's reputation as a center for innovation is rubbing off on more traditional industries.
Firms with a niche, a high level of exports or efficient production processes, such as Tnuva, are attracting buyers, particularly from Asia.
"Clearly one of the things interesting investors is that they are buying some sort of innovation," said Adir Waldman of Freshfields Bruckhaus Deringer, a law firm that represented Bright Food in the Tnuva deal, which closed a month ago.
Israel spends more on research and development as a proportion of its economy than any other country, according to the Organisation for Economic Co-operation and Development (OECD), followed closely by South Korea, and it has more researchers for every 1,000 people than any other country.
The high-tech boom has also been a magnet for professionals such as engineers while companies often tap into the skills of workers trained in the military or intelligence sectors.
Acquisitions of Israeli firms outside the high-tech sector by Asian, European and US investors leapt to $636 million last year from $73 million in 2013, according to Liat Enzel, head of advisory services at PricewaterhouseCoopers in Israel.
That figure has already been eclipsed for 2015 by the Tnuva acquisition and another major deal in the plastics sector is understood to be in the works.