As one of the main sessions of the 18th China Beijing International High-Tech Expo, China Financial Summit 2015, centering on "financial innovation and financial services under the policy of 'new normal'" is being held on May 12 and 13 at Beijing Financial Street.
The term "new normal" gained ground in China in May last year, and it is used to describe the need to remain cool-headed as economic growth slows.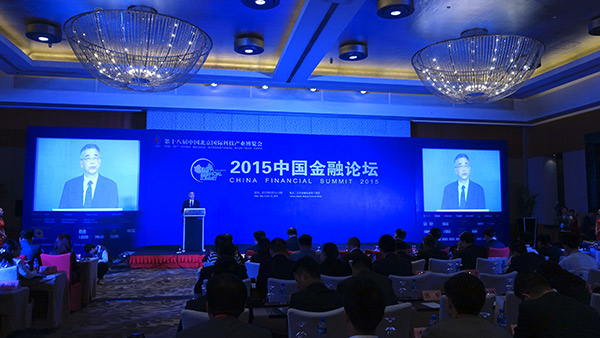 Li Dongrong, former deputy governor of the People's Bank of China, delivers a keynote speech on May 12, 2015 at China Financial Summit 2015 held in Beijing. [Liu Zheng/chinadaily.com.cn] 
"Analysis from the International Monetary Fund (IMF) pointed out that the reasons behind the growth rate decline of China's Total Factor Productivity (TFP) from 2008 to 2013 are in two factors," said Zhu Guangyao, vice-minister of Finance, citing a 2014 IMF white paper,"Potential Growth in Emerging Asia".
"First, the contribution rate made by scientific innovation to the economy has declined as the gaps in high-tech research and development area between China and developed countries gradually decrease," Zhu said.
"Another reason is that there is still a lack of practical applications in the nation during the transformation process from science and technology into productivity, particularly in commercial business activities," he added.
TFP is the portion of output not explained by the amount of input used in production. As such, its level is determined by how efficiently and intensely the inputs are utilized in production.
Zhu said the "new normal" of China's economy presents three characteristics.
After experiencing an annual 9.7 percent growth rate in gross domestic product over more than three decades, China should focus its new growth more on quality, energy savings and environmental protection.
Second, the nation has to pay more attention to economic structure reform, focusing on solving deep-seated problems that accumulated during the years of long-term, rapid development. This will maintain the health and sustainability of the economic development.
Third is the switch from traditional, factor-driven economic growth to innovation-driven economic growth.
Parallel sessions, round table discussions and closed door meetings, which will focus on development of Internet finance and financial credit and risk prevention, will be held during the two day event.
Other topics will include corporate mergers and acquisitions and IPOs, investment on the New Third Board, opportunities and challenges facing the Belt and Road Initiative and the outlook of the renminbi's internationalization process.
Li Dongrong, former deputy governor of the People's Bank of China; András Simor, chief financial officer and vice president of the European Bank for Reconstruction and Development (EBRD); Yi Huiman, president of the Industrial and Commercial Bank of China and another 11 officials and financial experts delivered speeches during the opening ceremony.