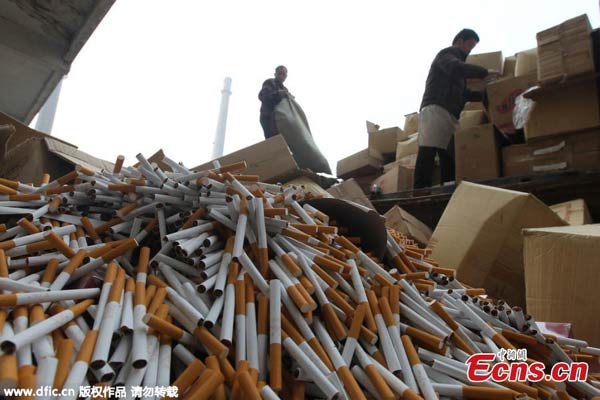 Workers dump counterfeit cigarettes at an incineration power plant in Xuchang, Central China's Henan province, March 13, 2015. [Photo/IC]
China raised the consumption tax on cigarettes from five percent to 11 percent, announced the Ministry of Finance in a statement on Friday.
Each cigarette will be taxed an additional 0.005 yuan during the wholesale process, effective from May 10, said the statement.
The higher rate is expected to bring in an additional 20 billion yuan ($3.2 billion) in taxes this year compared to 2014, reported Bloomberg, citing a person familiar with the matter.
The move came amid similar bills proposed in the US, as research showed that a tax hike would lead to lower cigarette consumption.
As the world's largest tobacco maker and consumer, China has more than 300 million smokers, almost the size of the US population, and another 740 million people are exposed to second-hand smoke each year.
According to official data, some 1.36 million Chinese people die from smoking-related diseases annually.
To curb the number of smokers, China released a draft regulation on tobacco control in late 2014 that will ban all form of tobacco advertising, sponsorship and promotion of tobacco products.