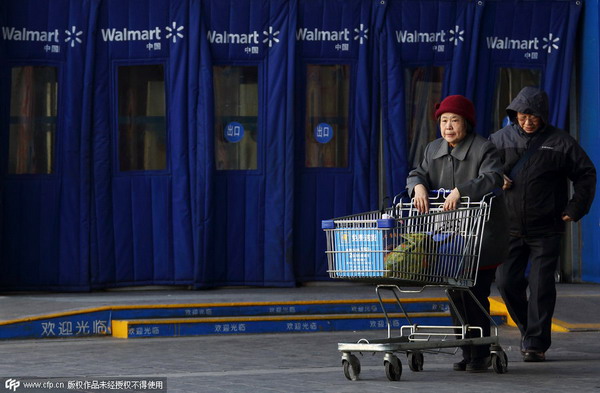 Customers pushing a shopping cart exit a Wal-Mart Stores Inc supercenter store in Beijing, China, on March 9, 2015. The US retail giant plans to open 115 new outlets by 2017 and remodel more than 50 others this year to offset slowing growth in China. [Photo / CFP] 
US retail giant Wal-Mart Stores Inc plans to open 115 new outlets by 2017 and remodel more than 50 others this year to offset slowing growth in China, a top company executive said on Wednesday.
"Over the next three years, we will increase investment across our business operations in China, as the country is a top priority for us," Chief Executive Doug McMillon told reporters at a news conference in Beijing.
The expansion of Wal-Mart, almost one-third by presence in China, is part of the company's multi-format strategy, which will include super centers and Sam's Club formats in cities such as Shanghai, Shenzhen and Wuhan from 2015 to 2017, creating more than 30,000 jobs.
The US retail chain has spent 600 million yuan ($96.8 million) to remodel more than 90 stores and now plans to invest more than 370 million yuan to upgrade 50 stores this year to better serve the Chinese customers, McMillon said.
The move came after top global retail giants such as the United Kingdom-based Tesco Plc and France's Carrefour SA, found the going tough in China, especially due to slowing economic growth and hot competition from online grocery stores.
Last year, Carrefour closed eight stores, while German retail giant Metro AG said it was closing its consumer electronics business in China. Tesco reported 5.74 billion pounds ($8.6 billion) of net losses, its biggest annual loss in its 96-year history.
Though online grocery businesses have changed the way consumers shop for goods, McMillon said he believes that physical stores would continue to prosper. "Some people may prefer to shop online, but some shop for fun, and they like to select fresh food for themselves, or maybe they want to go out anyway," he said.
Raymond Bracy, Wal-Mart China's senior vice-president of corporate affairs, said that an expanding middle class is encouraging for Wal-Mart to move into the emerging third-and fourth-tier cities, adding that the company would also push for further development of e-commerce.
The retail giant's purchase of a majority stake in the Chinese e-commerce company Yihaodian has been approved by regulators in August.
Since its entry into China in 1996, Wal-Mart has opened 412 stores in 165 cities and partnered with nearly 20,000 local suppliers.